Ex-INEC Chair, Jega Says INEC Database Not 100% Safe From Hackers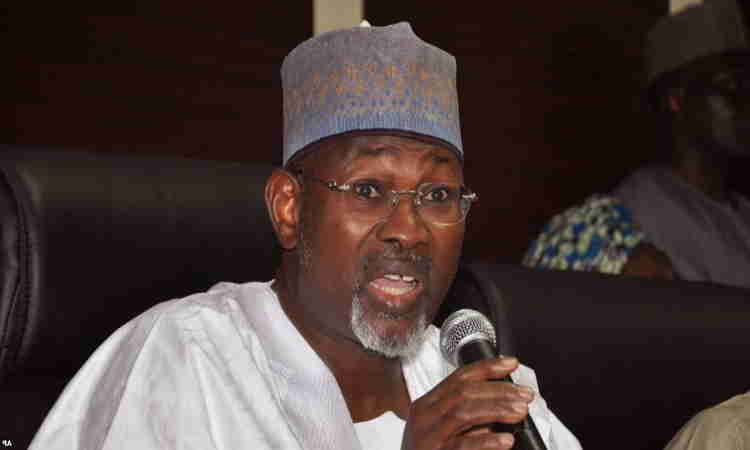 A few hours before the 2023 general elections, former chairman of the Independent National Electoral Commission (INEC), Prof. Attahiru Jega, has expressed concern that the electoral body's database is not 100% safe from hackers.
Jega acknowledged the level of preparedness of the electoral commission under the leadership of Prof. Mahmood Yakubu, saying there have been a lot of improvements in the country's electoral system for about a decade now.
According to Jega, despite the level of security on the INEC database and whatever backup plan the commission must have prepared, it is still not safe to say the database is 100% secured.
"You see, in this modern age, nobody can give you 100 per cent assurance that a database cannot be hacked unless the database is not online. In 2015, when we did the elections, our database wasn't online. But now, particularly because there's the issue of electronic transmission of results, it has to be online.
"But all over the world, databases are used, and they are relatively safe to be used because people now deploy effective cyber-security systems," Jega said during an interview with Trust TV.
Naija News reports that INEC has consistently declared they have got the best cyber security for the databases that they have. And have assured Nigerians of a transparent process before, during and after the 2023 general elections.
Jega, however, said: "It doesn't mean it will be 100 per cent secure, but I know that whoever uses s database also uses security alternatives which nobody knows. But you duplicate the data and keep it in case the database is hacked. The alternative database doesn't eliminate the risk of hacking, but it makes the risk statistically insignificant."
INEC recently introduced a novel tool, Bimodal Voter Accreditation System (BVAS), an electronic device designed to read Permanent Voter Cards (PVCs) and authenticate voters – using voters' fingerprints – to prove that they are eligible to vote at a particular polling unit.
The device is also able to automatically send the number of verified voters for each polling unit directly to the INEC database.
Speaking on the development, Jega said: "To be honest, just like every citizen of Nigeria, I've also been watching things from the side. I'm also ready to exercise my franchise, which I suspended when I was the chairman of INEC. I expect the elections to be better qualitatively, and as you've rightly pointed out, we've come a long way in improving our elections' integrity.
"Certainly, things have improved remarkably since 2007. This improvement can be attributed to not only the operational preparedness of INEC as an institution but also learning from there and also trying to adapt to global best practices in our own context."
INEC Seems Adequately Prepared For 2023 General Elections
Jega reiterated his remark on INEC's level of preparedness for the February 25th presidential and national assembly elections, as well as the governorship elections coming up in March.
According to him, the most important thing about electoral preparedness is transparency and accountability. The former INEC chairman said: "You have to be transparent, impartial and credible. One of the best ways of bringing about transparency in the electoral process is the incremental use of technology. And we have seen, since 2011 that we have moved into every electoral circle from one improvement to another with substantive, qualitative improvement.
"And I can say, from what I know, about the operational preparedness of INEC going into this election, it seems adequately well prepared. With regards to technology, the BVAS, it's certainly remarkably much better than the Card Reader we used in 2015.
"And the fact that the electoral legal framework has very remarkable provisions which not only now recognise the use of technology in elections, but even created opportunity for electronic transmission of results.
"It also opens another opportunity for blocking one of the traditional ways in which our reckless politicians undermine the integrity of elections by diversion of results when they have been counted at the polling units until they've moved to the collation centres.
"So this remarkable improvement, if all goes well, will definitely add tremendous value to the integrity of the 2023 elections. INEC, I believe, is operationally ready.
"I must also add that electoral integrity is not the business of INEC alone. All stakeholders have a role to play to ensure that the elections have integrity and therefore are free, fair and peaceful."
Effect Of Naira Redesign Policy on INEC
When asked to speak on the effect of the naira redesign policy by the Central Bank of Nigeria (CBN) on the 2023 elections and how it may affect INEC's need for cash for the running of its activities, Jega noted that from his experience, INEC would need enough cash.
He recalled that at the time he chaired the elections in 2015, 750,000 ad hoc staff were deployed. "This category of staff are to spend at where it is called RAC – that's Registration Area Centre. They all move there by the evening of the day before the election.
"At 6:00 am or even earlier, they're supposed to be at their various polling units where they're supposed to preside over the elections. And they'll be there, maybe from 6:00 am, until, hopefully, 7:00pm, but in most cases, may take even much longer," Jega noted.
He added: "So, people who are going to be in the field all day, they need to be able to buy something to eat. So, all these people would need cash, because they'll be posted in areas that may not have access to electronic transfers or have no ATM or POS machines. And in any case, their work will not allow them to leave where they are to go and look for money.
"Also, the security agencies are supposed to secure the polling units, and they're supposed to be there as long as the operational staff of the polling units are there. And usually, INEC provides a feeding allowance for them. And this feeding allowance has to be delivered in terms of cash. So, cash is a necessary requirement for the operational readiness of INEC on election day.
"Now, obviously, the cashless policy, as many people have said, is ill-timed. The timing is regrettable and probably not carefully thought out. Even in economies with better banking infrastructure than ours, normally when they introduce a new currency, they keep providing it until all the old currencies are withdrawn, which takes a year and in some cases, probably more.
"Now to come and say that you want to do that within 90 days: Frankly, I don't think it's a carefully thought policy, and regrettably, we see the implications of that kind of policy.
"So, I think there are legitimate concerns about whether INEC or, indeed, citizens will have the cash they require before the election day."
Jega spoke extensively, noting that he is informed that INEC itself had made necessary contacts with the CBN and has been reassured to get all the resources that they require to redeploy for the elections.
BVAS Reliability
Speaking on BVAS machine reliability, the former INEC boss recalled that in 2011, the commission did biometric registration where it captured the fingerprints of all people who presented themselves and got registered, and INEC issued what it called a temporary voters card for the 2011 general elections.
According to him, the effect of that was to, first of all, ensure there was a central database and segmented databases in each state of the federation and the FCT where the registration records of all registered voters are kept.
Jega added: "So after the 2011 elections, before the 2015 general elections, INEC issued to those who have registered what it called the Permanent Voters Card (PVC). The PVC contains all the records of registration of a voter. It has the photograph of the voter and the fingerprint of the voter all in a contact lens contained in the card given to a voter.
"So with that kind of information, INEC said, look, we can improve the integrity of elections by using a card reader to read the detail of every voter who presents himself or herself at the polling unit.
"So that's what is called verification and authentication. So anybody who presents a voter's card to the polling unit, if it doesn't belong to him, he can easily be identified as not being the holder of the card.
"So the BVAS now reads not only the fingerprints but also the photographs, that's the facial features of a person who presents a voter's card. So it will be able to compare the facial features as well as the fingerprints. So if the fingerprint doesn't work, the face will work.
"So, it decreases several faults, including the possibility if you're a genuine card holder, if you present yourself, you'll be either verified or authenticated.
"That's a remarkable improvement because, first of all, you eliminate the challenges and the time you waste when people's fingerprints can't be captured."
Jega added: "Second, it makes it easier when fingerprints can't be captured very quickly; the facial features can be used to verify a voter. That's why the BVAS is called Biometric Verification and Authentication System.
"It's a remarkable improvement over what we did in 2015, and from all the piloting that they've done, it seems to be working well.
"But the BVAS also has additional features. Because it's now capable of sending the records of verified voters for each polling unit directly to the database of INEC so that if there's any problem, you can always go back to the database and see. And the Electoral Act now is very clear if there's any discrepancy between the registration figure on the BVAS and the manual record.
"So all these are tremendous improvements which technology allows and which INEC is deploying hopefully for the better of the electoral process," the former INEC chairman noted.