Nnamdi Kanu: Mixed Reactions As Interpol Arrest IPOB's Simon Ekpa In Finland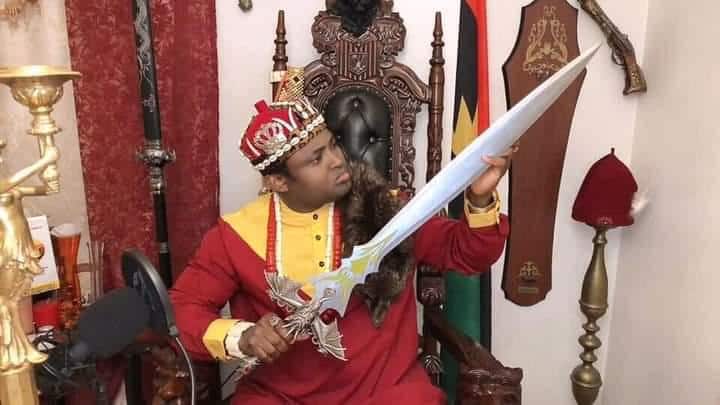 Mixed reactions have trailed the arrest of a self-proclaimed disciple of the detained leader of the Indigenous People of Biafra (IPOB), Mazi Nnamdi Kanu, Simon Ekpa, in Finland.
Naija News understands that the arrest of the separatist broke the internet on Thursday (today), days after some citizens signed a petition for his arrest.
Ekpa was arrested by the International Criminal Police Organization (Interpol).
The Biafran agitator has been instigating violence in the South-Eastern part of the country from Finland.
Ekpa had on several occasions issued a sit-at-home order in the Southeast on Mondays, hindering residents from carrying out their daily business activities and others.
He claimed to be fighting for the IPOB, but the group's leader, Kanu, who is currently in the custody of the Department of State Services (DSS) after his arrest and repatriation to Nigeria, has weeks ago asked the Nigerian government to treat as criminal anybody found causing unrest or issuing the sit-at-home order in the region in the guise of agitation.
Days after Kanu's verdict, Ekpa got picked up from his residence near the Lahti Market Square after allegedly threatening to stop the South East region from participating in the forthcoming general elections.
"We the people of Biafra will fight to the end this time," Ekpa wrote on his Twitter page earlier on Thursday.
Naija News understands that before Ekpa's arrest, the Nigerian Government had summoned the Ambassador of Finland to Nigeria, expressing grave concern over his threat to disrupt the elections.
Nigerians are hopeful that Ekpa's arrest will bring some relief in the Southeast before, during and after the 2023 general elections.
See some reactions to Ekpa's arrest below:
Ocular Priest @Dr_chazduke: "Simon Ekpa the goner!
A man can cook for the community and the community will finish the meal, but when the community cook for a man, he won't be able to finish it.
By the time Interpol will finish with Simon Ekpa, Peter Obi will be in Aso Rock healing and uniting Nigeria.
Emeks (èkún) @coly_emeks: "Funny enough this guy was an athlete that once represented Nigeria at a major athletic tournament.
Johnson @KingPharoah247: "Simon Ekpa is working for Tinubu. Their plan was to make Igbos not to vote.Thank God that their plans has failed.
Nwannenaija @Nwanne9ja: "He bit more than he could chew after the deal he made with Tinubu to disturb the election in the southeast. Good he was arrested.
Mr_Bigdolph Daddy Aubrie @JBigdolph: "Let me see who will come out as the next leader of ipob. I pray make the person get mind stay for naija sef.
Nice&Kind 🇵🇹🇹🇿 @ChuksMulti_P: "Correct……. With the kinds of moves OBIdients have taken so far,with Peter Obi as our president, this country will experience greatness in all ramifications.
Mrs O.J @mamarolex: "Thank God! My sister-in-law and her family live in Anambra, I know what they have been going through in that state. Army should be deployed to Anambra state already.
Chief Nomso @Odogwu_Nomso: "The people who paid him to order Sit at Home so elections won't hold in the South East will Sit At Home watching Simon Sit In Prison & Obi win the Election.
"Nah this Karma. God Of Obi is cooking a Meal.
Egede Ugo @Egedeugo: "Wow! I'm very happy! Pls send him back to Nigeria! We need fresh air in South East! I hope local radios will announce it immediately as they has been announcing his useless sit-at-home.
His sponsors must be arrested too.
Umeh @UmehWrites: "Being outside the country doesn't mean you can't be reached. That's why there are diplomatic relations between counties. You can be tracked down.
OmaZiNaDa🇳🇬🇳🇫🇨🇦🇨🇦 @phoenix22226: "Toy with these generation of Nigerians at your detriment. The petitions started like joke- like joke….see where it landed him? Na so 4 people started tweeting from a room."