IPOB Reveals Stand On Sit-At-Home Order In Southeast During 2023 Election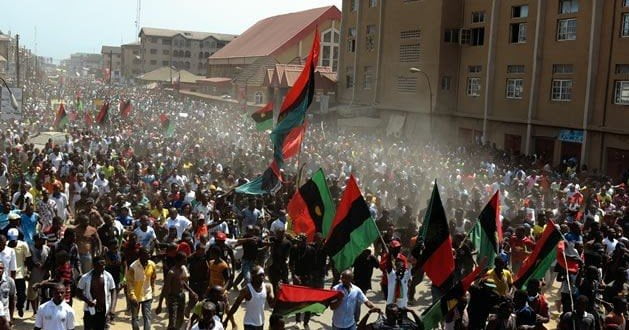 The Indigenous People of Biafra (IPOB) on Thursday declared that it did not call for a sit-at-home in the southeast during the 2023 general elections.
IPOB also added that those promoting calls for a sit-at-home in the southeast during the forthcoming elections were not members of the group.
This position was made known by the IPOB publicity secretary, Emma Powerful.
He noted however in the statement that the group is not interested in the forthcoming elections but won't declare a sit-at-home to stop the process.
Powerful stated that those calling for the sit-at-home are criminals who are trying to paint IPOB in a bad light so the international community would view them as a group that doesn't support democratic processes.
The clarification became necessary after calls by a Finland-based disciple of IPOB leader, Nnamdi Kanu, Simon Ekpa who insisted there would be a sit-at-home in the southeast during elections and called for a boycott of the exercise.
Powerful however stated that those promoting the sit-at-home in the southeast were not working for the group.
"We have stated for the umpteenth time that we have nothing to do with the Nigeria elections and have neither called for a boycott nor do we have the intention to call for an election boycott during this coming elections," he said in the statement.
"More importantly, IPOB has not called for any sit-at-home during the duration of the election and, therefore, distance ourselves from any purported sit-at-home in Biafra land during the election.
"Those calling for 'No Election' and sit-at-home during the election period are simply Fulani agents whose sole motive is to discredit our self-determination movement by attempting to paint it as an anti-democratic force.
"Their intention is to create the groundwork for the international community to view IPOB as being against the democratic process and provide them with an excuse to clamp down on our activities and on IPOB Leadership."
Powerful said those calling for sit-at-home during this polls "do not represent IPOB, are not IPOB family members, never were IPOB family members and are not working for Mazi Nnamdi KANU".
We Want A Referendum
Powerful reiterated that what IPOB is interested in is a referendum to determine its political future and obtain the release of its leader, Nnamdi Kanu.
"Our focus remains the unconditional release of our leader Mazi Nnamdi KANU as the court of appeal has ordered and referendum date for Biafrans to determine their political future," he added.
According to him, IPOB's director of state (DOS), Chinasa Nworu will on Friday night, make a broadcast on the issue of elections to tell people in the south-east that "we are not stopping anybody from performing his or her civic responsibility by voting person of your choice. IPOB did not order sit-at-home; IPOB is not against anybody coming out for elections".
He added that "criminals mentioned sit-at-home" during elections in the south-east.