'I'm Not Aware He Has Any Health Challenges' – APC Chair Speaks About Presidency By Proxy Under Tinubu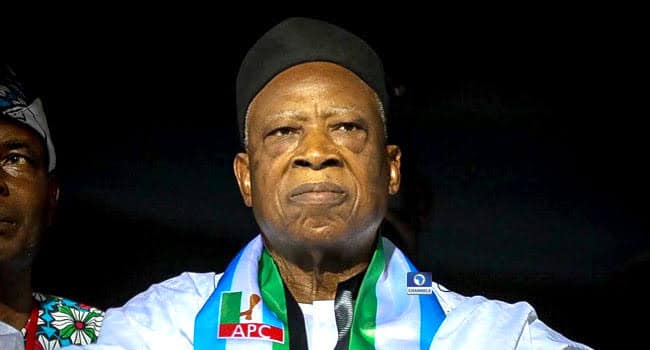 The National Chairman of the All Progressives Congress (APC), Abdullahi Adamu, has said he is not aware that his party's flag bearer, Bola Tinubu, has any health challenges.
Adamu said he has never seen Tinubu exhibit signs of illness of any sort nor had he seen that he ever complained of any sickness.
Naija News reports that this is as the APC chairman dispelled rumours surrounding the health status of the party's presidential candidate.
He assured Nigerians that Tinubu would rule if he wins at the forthcoming elections because he is sure he has the capacity to.
Adamu made the pronouncement in Abuja on Wednesday night while responding to questions from journalists at a press conference titled, "Victory is on the horizon."
The APC chieftain also dispelled speculations of the possibility of a proxy presidency under Tinubu should he win Saturday's election.
According to him, "I am not aware Tinubu has any health challenges. I have not seen him complain or exhibit any challenge of ill health. I'm optimistic that he will make a great president.
"Presidency by proxy? I can assure you that Tinubu will rule if he wins. I have worked with him for eight years, we were counterparts. There were many issues that brought us together. I believe he has the capacity, he is capable and will be able to exert himself on the rigours of the Presidency.
"I don't believe in the mafia world. It takes one to be a mafia to be member. The presidency has denied its existence. I don't work in the Villa. When people can't get what they want, they decide to fly all manners of information and create imaginary cabals."
Adamu also spoke about the insecurity in the South-East, saying there is a limit to what the government could tolerate.
He stated that "Voting is not compulsory, there are five states in the South-East and the APC has two. We are going to get more. There is a limit to what we can do about insecurity there. There is a limit to what we can take as a government and on the part of INEC. There is nothing wrong with agitation, but I don't have the stomach to tolerate killing. They should give peace a chance."