Enugu Attack: Chimaroke Nnamani Condemns Killings, Blames Elements Trying To Disrupt Polls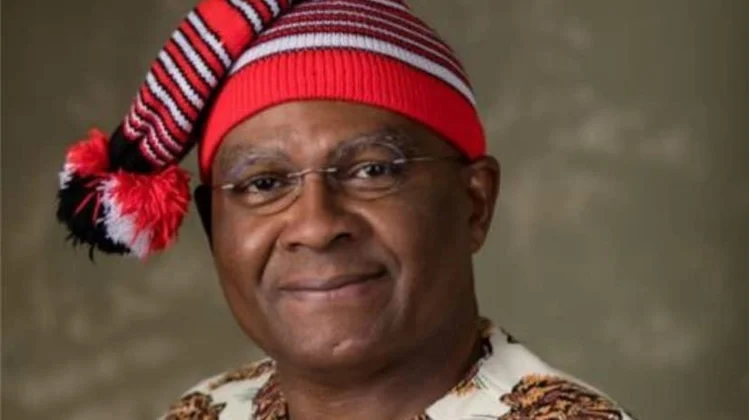 Several politicians have come out to condemn the attack and killing of some politicians on Wednesday in Enugu State.
A former Enugu State governor, Chimaroke Nnamani has also come out to condemn the attacks and killings in the State that have claimed some politicians.
Naija News had reported earlier that gunmen killed a Senatorial candidate of the party in Enugu State, Oyibo Chukwu, and set ablaze alongside five supporters who were with him inside his car.
The incident happened at Amechi Awkunanaw, Enugu South Local Government Area on Wednesday evening.
It was gathered that unidentified persons were said to have accosted them while riding in a Sienna vehicle.
The incident was confirmed by the governorship candidate of the LP in the state, Chijioke Edeoga.
However, in his reaction to the incident, Nnamani in a statement in Abuja, said the perpetrators of the heinous crimes are enemies of the people that must be fished out forthwith.
The former governor alleged that the series of attacks on various political parties' campaign convoys in recent times were planned and executed by unknown gunmen who came to enforce the no-election agenda and planned to disrupt the polls in South East region
While calling on security agencies to leave no stone unturned, he noted that first, it was the Peoples Democratic Party ( PDP) bus at Topland, the second on All Progressives Congress (APC) at Agbani and that of the Labour Party (LP) at Ekeotu (yesterday).
According to him, the perpetrators must be brought to justice contrary would be a disservice to God and humanity.
The statement further noted that "Nnamani has been in the forefront and indeed the first notable political leader from the South East Zone to openly condemn the activities of unknown gunmen and the sit-at-home order by the proscribed indigenous peoples of Biafra (IPOB) bedevilling the region.
"On September 20, 2021, Senator Nnamani in a statement warned that the sit-at-home order was against the collective interest of the Igbo because it has brought the economy and social life in the region to its knees.
"The former Governor had also condemned the attacks on citizens and their businesses by the perpetrators on account of the sit-at-home order.
"The trinity of Igbo character is defined by igba mbo (hustle), akonuche (cot of wisdom) and njepu (sojourn). The sit-at-home is antithetical to the innate Igbo tripartite traits and a betrayal of Igbo interest.
"Most of our people live on a daily income. Think of the market women who depend on daily earnings to feed their families.
"Think of students writing external examinations being denied access to the venues. This must not be allowed to continue.
"How does enslaving our people, and denial of means of livelihood add value to our quest for equity and Justice?
"In our struggle for equity and Justice in the Nigerian federation, we cannot inadvertently be inflicting more injuries on ourselves by this sit-at-home order. Let wise counsel prevail."