2023: Fuel Scarcity, Naira Crisis Plotted To Rig Out Tinubu – Gbajabiamila Alleges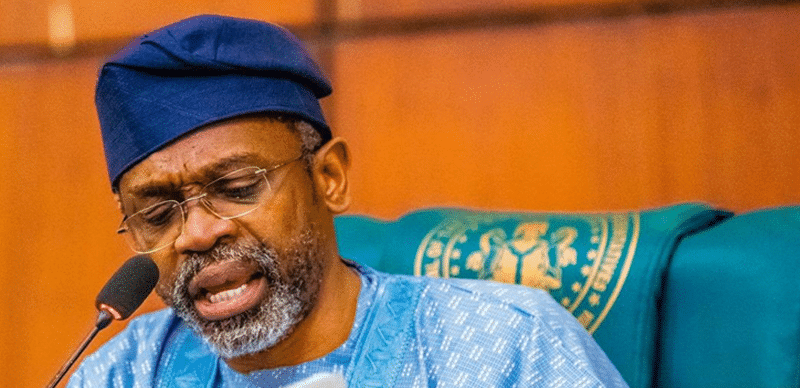 The Speaker of the House of Representatives, Femi Gbajabiamila has alleged that the ongoing fuel crisis and naira crisis were plotted to rig out the presidential candidate of the All Progressives Congress (APC), Bola Tinubu.
The speaker claimed that the plotters aimed at stopping Tinubu from partaking in this Saturday's election three weeks before the elections.
According to him, the only thing he takes solace in is that God is at the centre of everything because he keeps showing at every point.
Gbajabiamila, as learnt by Naija News, made the claim at the Teslim Balogun Stadium, Surulere during his 2003 Constituency Outreach Program on Thursday.
He said: "No money, no cash to eat, to go out in the last three, four weeks; that is nothing but rigging before of election.
"It is done for a purpose and a purpose only: to make sure that the man all of Nigeria wants does not win this election.
"But, you know, I am happy. I take solace in one thing: that God is a wonderful God, that in all their machinations, I see at every turn, God's hands in this project.
"The man who they attempted to rig the election against, even three weeks before the elections, but he's still standing and standing strong, that people are singing in the North, East and West.
"Songs are coming out and saying whether you lock up the money, whether you close the doors to the filling station, people are singing that they will go out and they will vote for Asiwaju.
"That is the man that God's hands are on his project."
The speaker made reference to how Tinubu emerged as the party's candidate at the APC primary saying it was divine intervention.
He stated that "A man who competed against over 20 other aspirants. A man who was not in the office, a civilian outside office who contested against 20 other aspirants, including the sitting Vice President, Senate President, Ministers, and government officials and he still came out on top; that is God's hands in that project.
"A man who after the primaries, all of a sudden, the only opposition party, the PDP (Peoples Democratic Party), broke into two and you have something called the G5; that is God's hands in that project."