Pastor Adefarasin Responds To Critics Over 2023 Presidential Election Prediction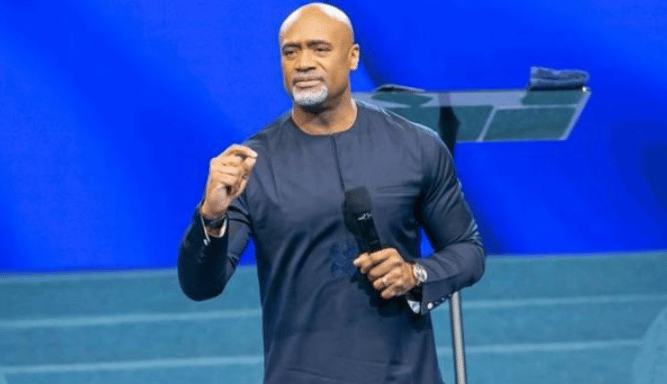 The senior pastor of House on the Rock, Paul Adefarasin has insisted that it is God's will for the 2023 presidential election to produce "Saul" before "David".
Pastor Adefarasin who stated this while responding to those who criticized him over his "Saul before David" parable, stressed that he can't deviate from what God told him.
Over the weekend, Naija News reported that Pastor Adefarasin used the "Saul before David" parable to predict the outcome of the 2023 presidential election.
Though he didn't mention or endorsed any presidential candidate while speaking about the parable in a viral video, he has been receiving knocks from various political camps.
In response to the criticism against him over his parable, Pastor Adefarasin noted that he is also trying to give a proper interpretation of the parable just like many of his critics.
He wrote: "Friends, you have kept me busy with your tweets, posts, and comments. Though many are harsh, I appreciate your feedback and I still want to take a minute to share my stance with you again, in the hope that you may gain a clearer understanding.
"As with all of you, I identify as a Nigerian and a patriot, so undoubtedly, I share in your pain. Living in Nigeria, I share the desire for a working country and that is why we all consider this election critical in our collective quest for a New Nigeria
"I really believe that it will happen, and I wish that you could see what I see – the hope that the parable of Saul and David brings – the after-victory. I understand that there are varying interpretations of the parable of Saul & David, and that is fine.
"However, remember that the giver of the parable is the One that can give meaning to it. God gave me that parable and even as I released it, I have continued to search for it's applicable meaning to the present Nigerian circumstances.
"I feel blessed to have your ear, however, I will ask that you listen deeply for understanding, so that you do not miss the message.
"Saul, instead of trusting in God, tried to manipulate things and even discountenanced his mentor, Samuel. David on the other hand stumbled, but never stuttered, he was delayed but not too late.
"So, whether Saul represents our past or our present, only God knows. Whether David represents the future or now, I can't tell. In any case, the 'wise' will wait for the election period to play itself out, before concluding or judging the messenger."
"Finally, kindly remember that I shepherd people of all parties, and if that parable was taken in offense, my intention was not to offend you.
"However, I stand by what I heard God say to me: that Saul came before David. This means that even if this election does not go the way that you want it to go, don't be disappointed.
"Every election will produce some disappointment for the camps of the candidates who lose. God's will shall still come to pass in Nigeria. It will happen and His 'David' will rise to the role. We will get there. Remember, we are all in this together.
"If you have your PVC, it is a token of your faith in a New Nigeria. Go out and vote as your convictions lead you, and watch God Almighty do what only He can do."