2023: No Amount Of Wike's Magic To Swing Rivers Votes For Tinubu Will Work – Uche Secondus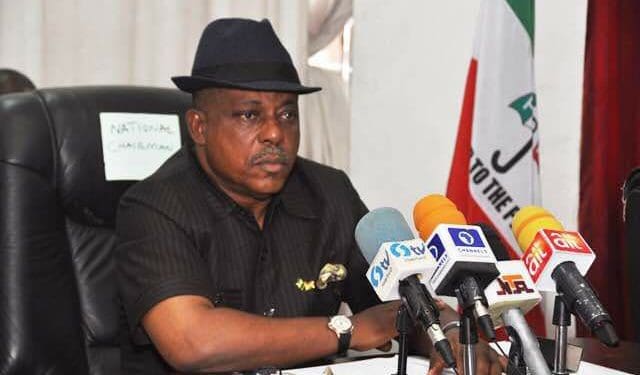 The former National Chairman of the Peoples Democratic Party (PDP), Uche Secondus has expressed optimism that no amount of intimidation from the Rivers State Governor, Nyesom Wike to stop the victory of the party's flag bearer, Atiku Abubakar in the state will be possible.
Secondus submitted that the party has gone to the grassroots of Rivers State to canvass for support for Atiku since Wike refused to work for him.
Naija News learnt that the PDP chieftain observed that no amount of Wike's magic and intimidation to try and swing the votes of Rivers people to the presidential candidate of the All Progressives Congress (APC), Bola Tinubu, will work.
Secondus spoke while featuring on Arise Television's Morning Show programme on Wednesday.
According to him, "This is very new in our state, so it has not been very easy. What we have done in the past few months when we witnessed that the Governor (Wike) and his team have changed from our presidential candidate even though he made a firm promise that he would support but later backed out of the support giving all forms of flimsy reasons.
"That has not gone down well to the grassroots. Recall that I was also a state chairman, and I believe that the Rivers people from 1999 till date have been voting for the PDP. What we have done so far in the state is to make sure that we go down to the grassroots to the people who are going to vote on that day because we are not going to depend on anybody's ego or what anybody likes but the truth of the matter is that before even the political dispensation.
"Alhaji Atiku Abubakar has already been known. Why we watch the governor over and over attacking our presidential candidate, but the people themselves are convinced that on that day they will vote for Alhaji Atiku Abubakar and PDP.
"So nobody is going to do any magic no matter the amount of intimidation and trying to swing the votes to the APC candidate. It would not work. The difference is very clear that you can see Bola Ahmed Tinubu, you can see clearly with our eyes open Alhaji Atiku Abubakar, who has done so much for the Rivers people, what has Bola Tinubu done for the Rivers people.
"So those are the issues and they are very critical and they are in the minds of Rivers people and Nigerians also."