Abia: Why I Am Not Supporting My Party's Candidate – Orji Kalu Opens Up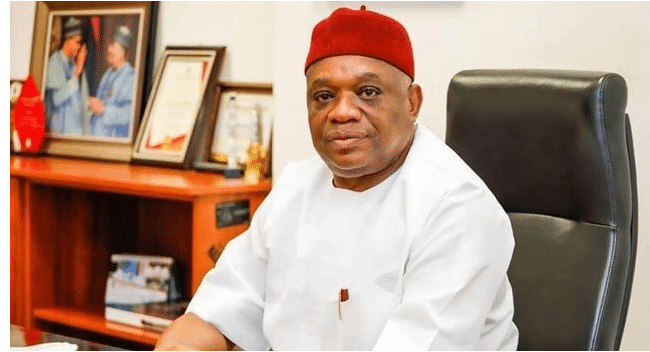 The Chief Whip of the Nigerian Senate, Orji Uzor Kalu has opened up on the reason why he will not be backing the Abia State governorship candidate of his party, Ikechi Emenike.
The All Progressive Congress (APC) chieftain made this known during an interview with Arise TV on Tuesday where he stressed that he cannot endorse another person when his brother, Mascot Uzor-Kalu of the Action Peoples Party (APP), is contesting in the election.
Orji made known his reason 20 days to the gubernatorial election, which is scheduled for March 11, 20223.
The governorship election is drawn between candidates of the Peoples Democratic Party's Ambrose Okechukwu Ahaiwe, the Labour Party's Alex Otti and Ikechi Emenike of the APC.
But Mascot has been tipped to be a major challenger in the race considering Kalu's political influence.
The Abia North Senator has been accused of anti-party activities amid the dilemma of choosing who to support between his brother and the APC candidate.
The lawmaker said, "Even the national chairman of this party knows it is going to be difficult for me to do. I'm not going to endorse any governorship candidate because my blood brother is running for election and the governorship candidate of the APC has not formally informed me that he is running for governorship. So, I cannot endorse what I don't know.
"I was a former governor of this state, and all the governorship candidates have been here formally to tell me they are running for governorship. I have not seen the governorship candidate of the APC. So, he is running for himself as far as I'm concerned. I'm not going to support what I don't know. That is the truth. I stand where I stand and nobody is going to make me to change my mind. The man has openly campaigned against me in Ozuakoli. He abused me before the people and the traditional rulers in my village. I accepted it. I don't want to be like another animal.
"My vote still remains for the APC and I am not going to follow or help someone who has not told me. He said I was the one who stopped him from going to the Senate. They said I'm not popular. It is on the 25th of February that we will decide who is popular or not and who will win his polling unit for Bola Tinubu is more important."