Naira Scarcity: 'Why Adamu Called Meeting With APC Governors' – Source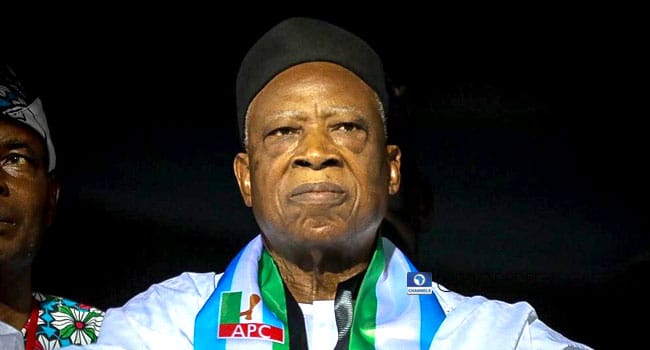 The National Chairman of the All Progressives Congress (APC), Abdullahi Adamu on Friday summoned governors elected on the party's platform to an emergency meeting on Sunday (today).
Naija News reports that Adamu called the meeting amidst the internal crisis in the party following the introduction of a new cash policy by the Central Bank of Nigeria (CBN).
The internal crisis in the ruling party escalated on Thursday when President Muhammadu Buhari in a nationwide broadcast, stated that the old N200 naira notes remain the only legal tender, while N500 and N1000 notes seize to be legal tenders.
Some governors who were not pleased with the President's statement asked people in their states to ignore Buhari's directives.
Meanwhile, a top official of the party, who spoke on condition of anonymity said Adamu in the meeting today would discuss the court cases over the naira redesign policy and plans for Saturday's presidential and National Assembly elections with the governors.
The source claimed that Adamu and some members of the party's National Working Committee are angry that it is governors in the APC that are opposing the new naira policy.
The source said, "Adamu is angry that those who are in court against the Federal Government's policy are governors produced by the party. It is a thing that has hardly happened before in the history of democracy in the country.
"Adamu is also worried that the governors are giving contrary directives to the residents of their states. You can imagine APC governors asking people of their states to continue spending money already outlawed by the President. That is a direct confrontation with the President and the political party he represents. There is no way the party will allow that to continue, especially as the elections are nearer."