I Told You To Get A Gun – Burna Boy Recounts In An Unreleased Track In Honour Of AKA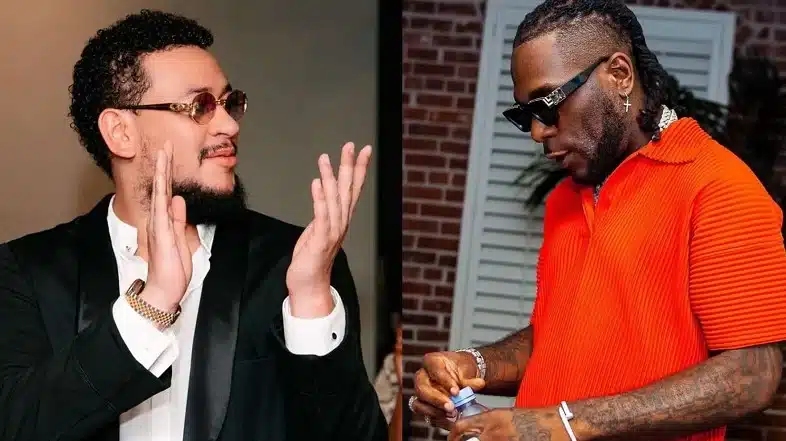 Afrobeats singer, Damini Ogulu, popularly known as Burna Boy, has recounted how he told the late South African Rapper, Kiernan Forbes aka AKA to get a gun for his protection.
The singer took to his Instagram stories to share an unreleased track about the death of the South African artiste.
In the track, Burna Boy expressed the shock he experienced over AKA's tragic death and remembered how he had once advised him to get a gun.
Naija News reported on 11 February that popular South African rapper, Kiernan Forbes, professionally known as AKA was shot dead on Florida Road.
According to reports by the police in Durban, the rapper was reportedly killed in a drive-by shooting on Florida Road.
Reports had it that AKA was shot by persons in two cars around 10 pm on Friday. It was reported that AKA was standing outside the Wish Restaurant when he was gunned down in a drive-by shooting.
Another person believed to be the rapper's bodyguard got injured, while an unknown person believed to be a close friend of AKA was also killed.
However, Burna Boy in his unreleased track in honour of AKA said "WTF is all of that about? I just heard he died, seen that video at that restaurant. Took me out of a positive mood/ Took me back to that day when you saw my gun and you said I was wild/ Then I told you you should have one too."  
The singer who also mentioned the beef between him and the deceased said in the track that "But I didn't want you dead, it was like that with me and you, have one too/ Cuz it weren't like niggaz wasn't dying but I thought you knew/ And I ain't really f**k with you
"Wicked! I hope they catch whoever did you wicked/ I hope you rest in peace, even though we ain't kick it/ At the end of the day we some grown ass ni**az."
This platform recalls that xenophobic attacks on Nigerians and other Africans in South Africa in 2019, AKA and Burna Boy had clashed in a series of posts on Twitter.
Burna Boy, who condemned the attacks, vowed not the visit South Africa following his clash with AKA.
In a now-deleted post Burna Boy said "Next time, I see you, you better have a big security bro, on Gambo's Grave, ur gunna need it(sic)."