CBN Governor, Emefiele In Aso Villa, Gives Directives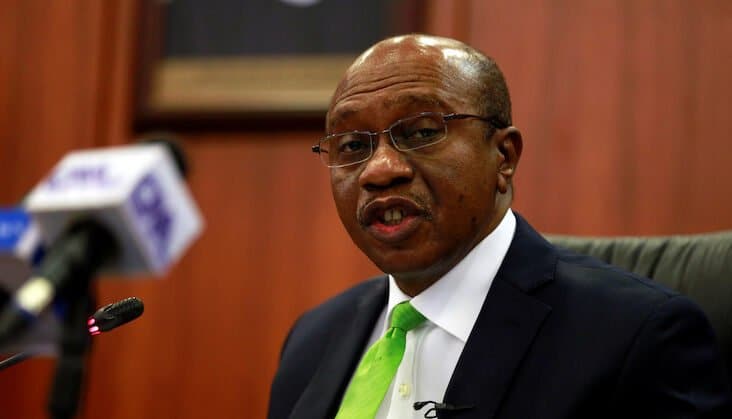 The Governor of the Central Bank of Nigeria (CBN), Godwin Emefiele is currently in Aso Villa.
Emefiele's meeting in the villa is coming hours after President Muhammadu Buhari addressed Nigerians on the challenges experienced due to the naira swap policy of the apex bank.
President Buhari on Thursday confirmed that he approved the policy carried out by the CBN.
Emefiele while speaking on President Buhari's statement in the early hours of Thursday said he had met with the leadership of at least 15 commercial banks.
Recall that President Buhari approved that only the old N200 note will remain a legal tender until April 10, 2023.
Emefiele disclosed that he met with the leadership of the banks to ensure an ample supply of the old N200 notes to alleviate the suffering of Nigerians.
Meanwhile, the CBN Governor was at the State House, Abuja, for a separate assignment and not with President Buhari.
Buhari on Thursday said the old N500 and N1,000 banknotes are no longer legal tender in the country.
He, however, said the old N200 note will be legal tender for the next 60 days, till April 10, 2023, while beseigning Nigerians to deposit their old N500 and 1000 notes with the CBN.
Buhari said, "To further ease the supply pressures particularly to our citizens, I have approved the CBN that the old N200 bank notes be released back into circulation and that it should also be allowed to circulate as legal tender with the new N200, N500, and N1000 banknotes for 60 days from February 10, 2023, to April 10, 2023, when the old N200 notes cease to be legal tender.
"In line with Section 20(3) of the CBN Act 2007, all existing old N1000 and N500 notes remain redeemable at the CBN and designated points. I admonish every citizen to strive harder to make their deposits by taking advantage of the platforms and windows being provided by the CBN."