FG Unveils Agenda 2050 To Reduce Poor Nigerians To 2.1Million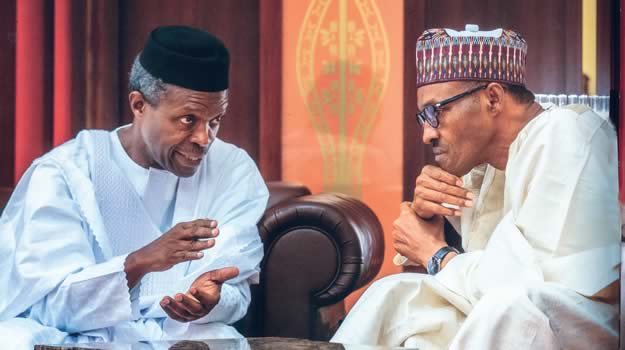 President Muhammadu Buhari-led government has unveiled 'Agenda 2050' to reduce Nigeria's poverty rate drastically.
The 'Nigeria Agenda 2050' was unveiled yesterday by the National Economic Council (NEC) chaired by Vice President (VP) Yemi Osinbajo, Naija News reports.
If implemented as designed, the plan is expected to reduce the number of poor people to 2.1 million by 2050. According to NEC, the agenda will also ensure that Nigeria leaps from upper-middle-income countries and subsequently to the status of a high-income country.
Naija News reports that the Ministry of Finance, Budget and National Planning presented the agenda to state governors and other members of the NEC at the first NEC meeting this year.
In his submission about the agenda, Osinbajo said the Plan "captures a lot of the expectations for Nigeria in the future and hopefully implementation which is key if effectively done."
The Minister of State for Budget and National Planning, Clem Agba, said the Federal Government had taken steps to ensure the operationalization of the plan, especially with the inauguration of the Steering Committee of the National Development Plan.
In a statement made available to newsmen by Osinbajo's spokesman, Laolu Akande, the VP said Agenda 2050 was to help Nigeria attain her desire to join the group of upper-middle-income countries successfully and subsequently to a high-income group with annual average real GDP growth projection of 7.0 per cent.
He said: "Nigeria's long-term ambition is to improve its per capita GDP from about US$2,084.05 in 2020 to US$6,223.23 in 2030 and US$33,328.02 in 2050, with rapid and sustained economic growth, job creation and poverty reduction.
"The real growth rate of the GDP of the first medium-term NDP 2021-2025 on average will be 4.65% and this will increase to 8.01% in the second NDP; subsequently, it's expected to increase to 8.43% in the third.
"Consequently, the number of full-time jobs created will be roughly 165 million during the Agenda period to spur poverty reduction.
"The number of people in poverty will decline from roughly 83 million in 2020 to about 47.8m in 2025 and to 2.1m by 2050, thus taking a significant segment of the population out of poverty."
As of 2022, the Multidimensional Poverty Index survey revealed that 63% of persons living in Nigeria, 133 million people are multidimensionally poor, Naija News reports.