'You're Unstable, Keep Your Venue, Atiku Campaign Fires Wike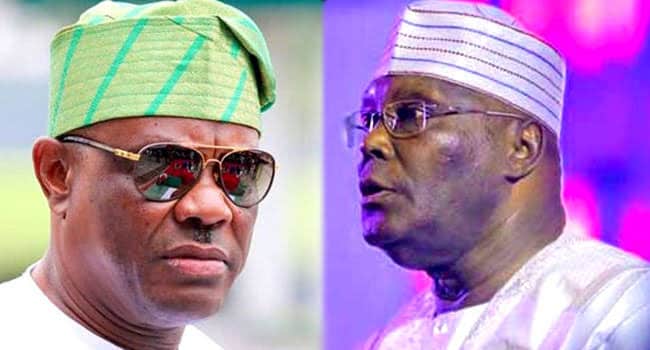 The Peoples Democratic Party (PDP) Presidential Campaign Council in Rivers State has rejected the venue approved by Governor Nyesom Wike for the campaign rally organised for the party's standard bearer, Atiku Abubakar.
Naija News reported that Wike had on Tuesday, reapproved the Adokiye Amesiamaka Stadium, Igwurita-Ali, Port Harcourt, for the PDP presidential campaign rally in the South-South state.
The reapproval comes one week after the governor revoked the initial approval and banned the PDP presidential campaign council from using the facility over alleged security concerns.
But speaking during a radio programme in Port Harcourt on Wednesday, spokesperson of the PDP PCC in the state, Dr. Leloonu Nwibubasa, said the council is not interested in the governor's Greek gift.
He added that the council cannot take Wike by his words, wondering how the governor came up with the reason that there will be violence at the venue for which he earlier revoked his approval.
He said: "We are aware that yesterday he announced that the stadium has been restored and that he has rescinded his decision.
"But let me state this very clearly, the Presidential Campaign Council of Atiku Abubakar is not interested in Governor Wike's greek gift.
"The said stadium that he revoked for reasons that he gave based on intelligence. May I ask, has he reversed those intelligence report?
"Is the Presidential Campaign Council not colluding with the APC to hold a joint rally in the same stadium? Are there no security reports that show that there had been violence?
"How did Governor Wike come with his reason that there will be violence for which he earlier revoked the stadium?"
Nwibubasa said before Atiku can use the approved stadium, Wike must first write to the National Working Committee (NWC) of the PDP, the same way he did while revoking the approval.
He added: "He wrote to us formally cancelling the approval. We also expect Governor Wike to write and not just standing on a podium during campaign and making statements that depict a very high-level of instability. At this point, Rivers people should be aware that they have an unstable leader."