Pete Edochie Praises Judy Austin And Yul Edochie For A Job Well Done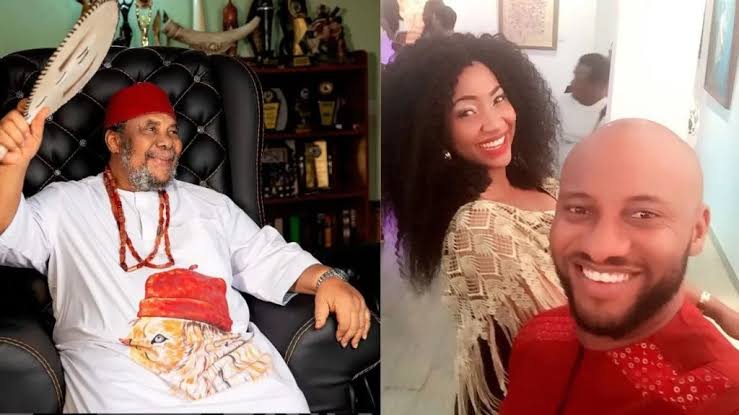 Veteran Nollywood actor Pete Edochie has commended his son Yul Edochie and his daughter-in-law Judy Austin over their artistic prowess.
Nollywood Actor and director, Yul Edochie, shared the moment his dad Pete Edochie commended his artistic prowess and leadership skills on wife actress, Judy Austin's movie set.
Naija News reports that a few weeks ago, Judy who is the second wife of Yul announced that she was working on a new movie with her husband and father-in-law.
On Wednesday, Yul shared a video on his Instagram page of his father praising the team spirit on the production set of the latest film titled 'The Godfather.'
In the video, the veteran commended Yul and Judy for their professionalism and filmmaking skills.
Captioning the video, Yul wrote, "The high point of my career. Getting an endorsement from the man who gave birth to me, The Legend and biggest name in Nollywood, Chief Pete Edochie. In 2005, fresh out of Theatre Arts Department, University of Port Harcourt, I directed my first movie which starred Chief Pete Edochie. After the movie my father said I tried though but it would be best if I go fully into acting, learn more as an actor before coming back to directing. I agreed.
"As a man who loves challenges, I took it upon myself to make a mark in Nollywood as an actor. So I went into acting fully and established myself as one of the greatest actors in Africa. 2023, I directed my father again in this movie THE GODFATHER and I blew him away with my artistic prowess and leadership skills. He finally gave me my accolades. I earned it. THE GODFATHER"