Banks, ATM Points Close Down In Ogun After Protest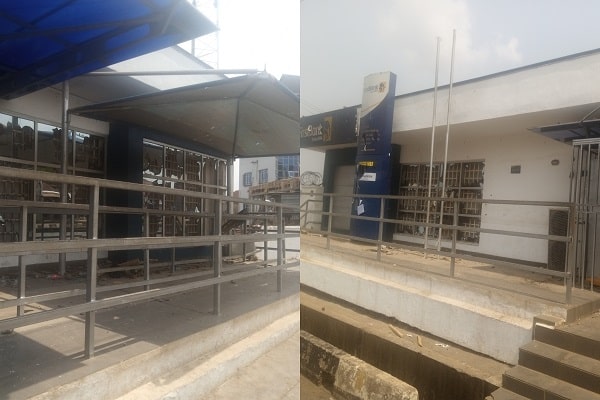 Following the protest that rocked Abeokuta, the Ogun State capital on Tuesday, it was gathered that commercial banks on Wednesday were under lock.
Naija News learnt from The Nation that banks at Lalubu street, the Abeokuta Central Business District (CBD), Sapon, Panseke and Ibara areas of the state capital were under lock and key while their Automated Teller Machines (ATMs) were also not functioning.
It was also gathered that armed security operatives were also sighted securing the premises of several banks.
The development was a result of the destruction of ATMs when angry protesters attacked and vandalized banks on Tuesday.
Most of the staff of the attacked banks were reported to have scampered to safety through the back doors of their premises.
Naija News reported on Tuesday that video showing the moment an angry protester destroyed the campaign banner of the All Progressive Congress (APC) during the violent protest in Abeokuta earlier today has surfaced on social media.
Naija News earlier on Tuesday reports that residents of Abeokuta, the state capital of Ogun, took to the streets to express their grievances over the scarcity of fuel and the new naira notes, which later descended into chaos.
It was gathered that protesters who were mostly armed, began to destroy banks and other properties in the process.
One of the videos that surfaced captured the moment, an angry protester is seen tearing down the campaign banner of the APC during the violent protest.