Angry Protesters Destroys APC Campaign Banner In Abeokuta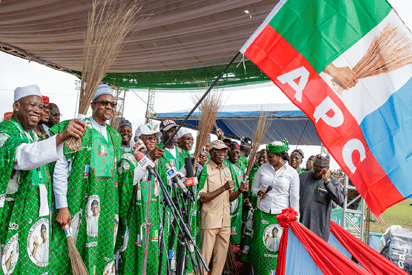 A video showing the moment an angry protester destroyed the campaign banner of the All Progressive Congress (APC) during the violent protest in Abeokuta earlier today has surfaced on social media.
Naija News earlier reports that residents of Abeokuta, the state capital of Ogun, took to the streets to express their grievances over the scarcity of fuel and the new naira notes, which later descended into chaos.
It was gathered that protesters who were mostly armed, began to destroy banks, and other properties in the process.
In one of the video that surfaced captured the moment, an angry protester is seen tearing down the campaign banner of the APC during the violent protest.
Watch the video below;
CBN Won't Be Used To Disrupt Elections
In other news, the Governor Central Bank of Nigeria (CBN), Godwin Emiefele has declared that the 2023 general elections will not be disrupted by the apex bank.
Naija News reports that the CBN boss at a meeting with the Chairman of the Independent National Electoral Commission (INEC) Prof Mahmood Yakubu and other 11 National Commissioners, pledged that the bank won't be the cause of any hitches to the coming polls.
He said "The CBN will not allow itself to be used as agents to frustrate the fourth coming election which is a positive assignment.
"If you require cash to pay some of your service providers, we will make it available to you. We will not allow ourselves to be seen as agents that frustrate a genuine assignment."
His submission follows the request by the INEC boss for the apex bank to make available every cash needed to pay logistics for the success of the elections.
The INEC chairman, told the CBN governor the 2023 polls will be the best in Nigeria's history, but then concerns have however been raised about the processes leading to the elections.
Yakubu submitted that while the commission has transferred all its accounts at the state and national level to the apex bank, some of the services being rendered to the commission need to be paid for in cash.