You Have History Of Cornering Public Assets – Atiku Replies Tinubu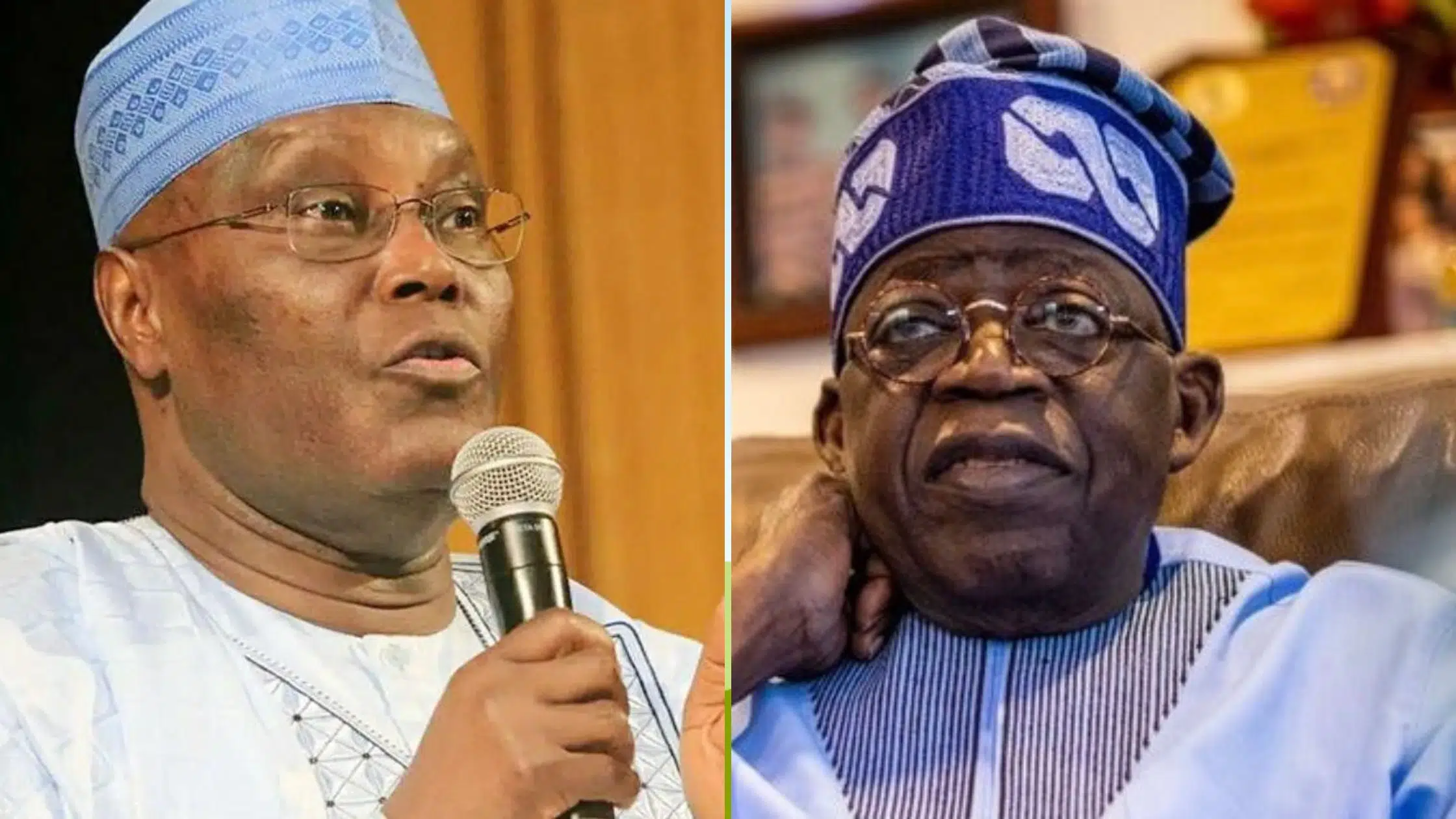 The Presidential candidate of the Peoples Democratic Party (PDP), Atiku Abubakar, has said his All Progressives Congress (APC) counterpart, Bola Ahmed Tinubu, has a history of acquiring public assets.
Atiku, in a statement on Sunday by his media aide, Phrank Shaibu, stated this in reaction to Tinubu's claim that he sold off government properties and diverted the proceeds during his time as the country's Vice President.
The PDP flagbearer accused the APC presidential candidate of planning to acquire federal government properties across the country if he becomes president just like he did as Lagos State governor.
The former Vice President stated that Tinubu has made Lagos State where he has been ruling directly and indirectly since 1999 his personal fiefdom and property.
Atiku noted that Tinubu, who in an interview with The News Magazine some 10 years ago, said he returned to Nigeria after the June 12 struggle with nothing, had now become stupendously wealthy by taking over critical government properties.
He said, "Tinubu converted the land where Lagos Polytechnic (LASPOTECH) was located at Ikosi near the old toll gate. He chased away the students in 2006 and went ahead to locate the choice plots to himself, his cronies and political associates. The headquarters of Television Continental (TVC), which is owned by him, is located there. We dare him to deny this."
Shaibu further stated that Tinubu became the first governor in history to sign an obnoxious pension law that guaranteed lifetime benefits for himself and his family.
He said the "obnoxious pension law provides that a former governor of Lagos gets a residential house at any location of his choice in Lagos State and one residential house in the Federal Capital Territory for the governor on two consecutive terms.
"Tinubu's law also stated that he will get six brand new cars every three years, 100 per cent of the basic salary of the serving governor, free health care for himself and members of his family; furniture allowance, which is 300 percent of their annual basic salary house maintenance allowance, which is 10 percent of basic salary utility allowance, which is 20 percent of the salary and car maintenance allowance, which is 30 percent of the annual basic salary.
"Other benefits include entertainment allowance, which is 10 percent of the basic salary and a personal assistant, who will earn 25 percent of the governor's annual basic salary. Even former Presidents of Nigeria do not enjoy such largesse. This is the state-sanctioned profligacy that Tinubu entrenched as a former governor.
"Tinubu's residence at 26 Bourdillon Road, Ikoyi was initially falsely presented as the Guest House of an oil company. Later, he purportedly bought and used public funds to rebuild and renovate it. The Lagos State Government bought the property and paid an undisclosed sum to him and thereafter gave the property back to him under the bogus Pension Bill he signed into law shortly before he left office in 2007.
"The annex of the Lagos State Guest House in Asokoro, Abuja was bought by the State Government in 2006 for N450 million, purportedly to protect the main house from security breach. Shortly after Tinubu left office, the property was transferred to him under the pension plan he signed into law before leaving office."
Atiku added that the tollgates along the Lekki-Epe Expressway, the Alpha Beta Consulting which has exclusive rights to collect taxes on behalf of the Lagos State Government as well as many other revenue generating firms in Lagos are under the control of Tinubu.
He said it was curious that Tinubu had continued to divert state owned properties despite the huge housing deficit in Lagos State which is one of the highest in the world.
He added: "What Tinubu has done in Lagos is state capture. He appropriated everything to himself including but not limited to cemeteries. He has pocketed the sources of the state and that is why he claims to be wealthier than Osun State.
"While in office, he allocated to himself the former Strabag yard beside the Lagos State Secretariat at Alausa, Ikeja. It has now been converted to the Ikeja City Mall.
"If Tinubu becomes President, he will take ownership of the federal secretariat, Ikoyi; the Tafawa Balewa Square and every other federal property in Ikoyi to the detriment of Nigeria.
"Already, his wife is a senator, his daughter is market woman leader and she extorts levies from traders across the state. His sister-in-law is a commissioner; his son enjoys advertisement monopoly in Lagos. His godson, MC Oluomo, is the transport kingpin who extorts billions of naira monthly from bus drivers. If Tinubu takes over as President, the entire country will become the property of his family. Nigerians will become second class citizens in their own country."