Victor Osimhen Becomes 4th Napoli Player To Score 16 Goals In 21 Games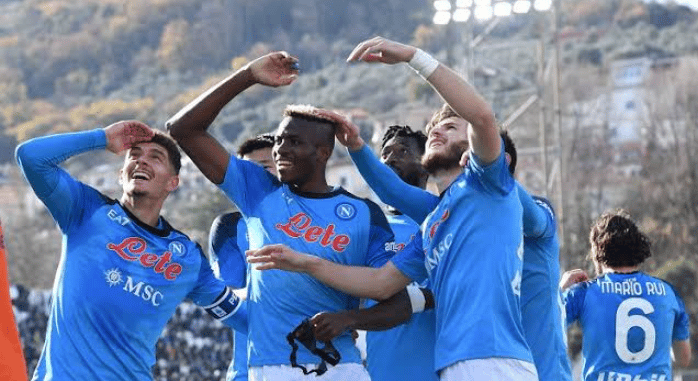 Nigerian attacker, Victor Osimhen scored twice for Napoli in their 3-0 thrashing of Spezia on Sunday.
Following in the footsteps of Luis Vinicio in 1955–1956 season, Edinson Cavani in 2012–2013 season, and Gonzalo Higuain in 2015–16 season, Victor Osimhen became the fourth player in Napoli history to score 16 goals in 21 Serie A games.
As a result of their win on Sunday, Napoli now leads the Serie A table by 13 points over second-place Inter Milan that beat their local rivals, AC Milan 1-0 on Sunday night.
Before his latest goal-scoring heroics, there was a curious incident during the warm-up to the game when the 24-year-old Nigerian striker clambered into the Spezia supporters' stands to hug a young lady.
After the 3-0 win over Spezia, Victor Osimhen explained that he decided to get across to the opponent's fans to apologize to a supporter.
He said: "I was making the practice shot, I shot over the goal and there was a lady in the middle of the fans. I think she was looking at her phone, the ball hit her in the face and I felt so sorry, as I didn't mean to do that. I had to show my appreciation and say sorry for that."
As it stands, the two goals Osimhen scored on Sunday have taken his league tally for the season to 16 goals on the Serie A top scorers' chart, four goals ahead of his fellow Nigerian Ademola Lookman.