Okowa Given 48 Hours To Retract Attacks On Edwin Clark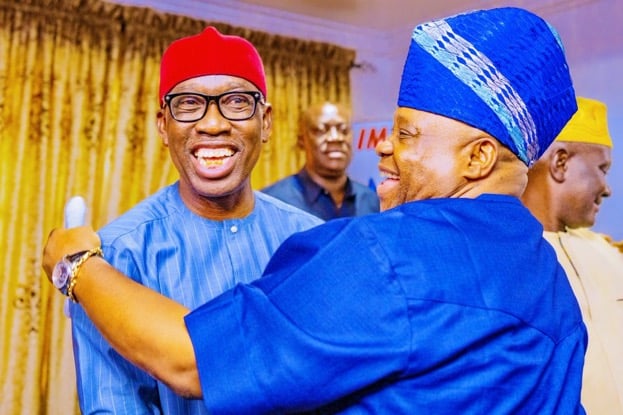 The Pan-Niger Delta Forum (PANDEF) has called on Governor Ifeanyi of Delta State to retract his "attacks" on Ijaw national leader, Edwin Clark, within 48 hours.
Recall that Clark had accused Okowa of betraying the south for accepting to be the running mate of the Peoples Democratic Party (PDP) presidential candidate, Atiku Abubakar.
The elder statesman had also accused the governor of mismanaging the 13 percent derivation funds received by the state government, describing Okowa's administration as a "reign of unaccountability."
Responding to Clark's letter through his commission for information, Charles Aniagwu, Okowa said there was so much "falsehood" in the elder statesman's claims and that the expectation from a senior citizen should be actions that can unite the nation.
In a statement on Sunday, PANDEF spokesperson, Ken Robinson said Okowa should answer the queries raised by Clark as Nigerians deserve to know how public funds are spent.
PANDEF said: "PANDEF, thus, finds it stunning that less than 24 hours after Chief Clark wrote an open letter to the governor, raising various troubling issues, Ifeanyi Okowa has been quick to reply him; avoiding answers to the veracity of the issues raised, but dwelling on the towering image, integrity and personality of this great national icon.
"As a regional body that represents the interests of the people of the entire Niger Delta, PANDEF is compelled to note that the responses on the matter by Okowa's commissioner for information, Charles Aniagwu, is thoughtless and disingenuous.
"For the purpose of correcting Okowa's messengers, and to set the records right for future generations, it is necessary to remind Okowa and his aides of some facts.
"Without doubt, there is no other Nigerian, living or dead, who has played roles to unify this country as Chief E. K. Clark has done. For over 70 years, the respected national leader has continued to play overriding nationalistic roles which was acknowledged, perhaps unintended, in the commissioner's response to the chief's letter.
"Our least expectation was that His Excellency would provide answers to the questions posed. Because the funds that come to Delta state are for the people of the state, thus, the demand for accountability and transparency must not be trivialised or ignored but should be answered correctly, especially for a man who dreams to become the vice president of Nigeria.
"Governor Okowa should also note the other critical issues cited in our father's letter to him, including the question of how he emerged as vice presidential candidate to the PDP presidential flag bearer, former Vice President Atiku Abubakar.
"Nonetheless, PANDEF gives Ifeanyi Okowa, 48 hours to retract and withdraw his attacks on Clark in his interest."