You Will Be Shocked, Peter Obi Is Now A Major Candidate In Kaduna, Benue, Taraba, Others – Babachir Lawal Fires El-Rufai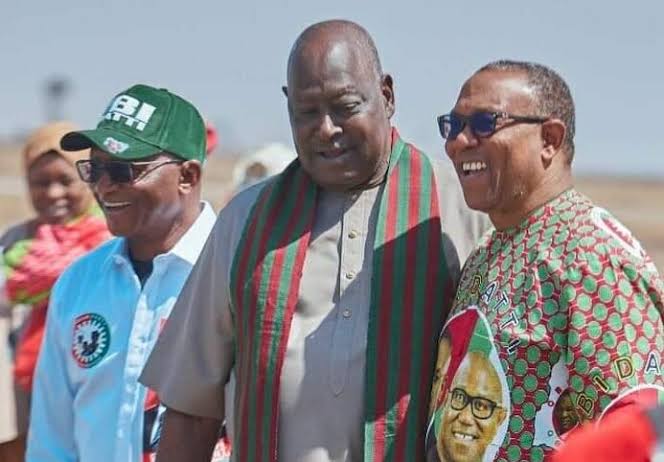 A former Secretary to the Government of the Federation (SGF), Babachir David Lawal, has stated that the presidential candidate of the Labour Party (LP), Peter Obi, would get 50 percent of the vote cast in the North.
The former SGF was reacting to comments made by Governor Nasir El-Rufai of Kaduna State, who had downplayed Obi's chances in the upcoming presidential election.
Speaking on Friday during an interview with Channels Television, Lawal said the LP candidate is gaining massive support in unexpected northern areas, stressing that Obi's growing popularity will shock critics.
According to the former chieftain of the All Progressives Congress (APC), Peter Obi has run the Peoples Democratic Party (PDP) out of Adamawa, Taraba, Plateau, Benue, and Kaduna states.
He said: "On the side of the Labour Party, what has changed is that areas where we had not expected the Labour Party to do well; they are galloping through.
"The momentum is so much that it is difficult to curtail.
"When the 2023 election season commenced, Peter Obi was not on the card during the computations as to what will happen, and the expectation was that the race was a straight one between APC and PDP.
"Out of nowhere, Peter Obi came in and then followed by Rabiu Kwankwaso. The whole permutation changed.
"Unfortunately for the two parties — APC and PDP — they don't have the capacities to factor this dynamic.
"As you speak, Peter Obi has run PDP out of Adamawa, Taraba, Plateau, Benue, and Kaduna states and quite a number of states in the north.
"Before in our calculations, we were targeting 25 percent, but now we are targeting within 55 to 70 percent in the majority of the states in the north."
Speaking further, Babachir Lawal said the Kaduna State governor would be shocked by the election's outcome.
He said: "Every Nigerian is now determined to have a say in this election, including those who Nasir el-Rufai claimed are not many. He said northern Christians are not many.
"I want him to wait for February 25, and he will see the shock of his life. When he goes around bandying about five and six million votes in Kano, he forgets that in that five and six million, the Igbo are about one million, residing in various towns in Kano."