Video: What Buhari Said About Tinubu In Nasarawa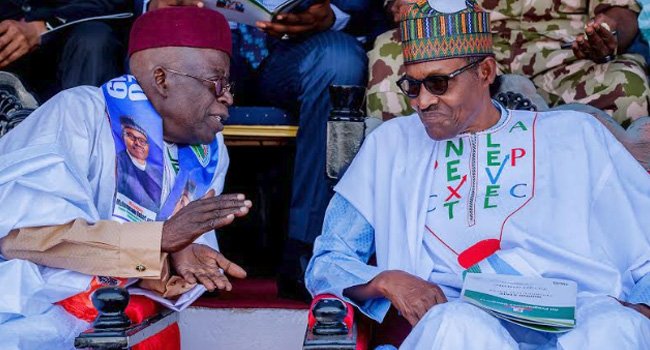 President Muhammadu Buhari has endorsed the presidential candidate of the All Progressives Congress (APC), Bola Tinubu to succeed him in office.
The President while speaking on Saturday in Nasarawa State at the APC presidential campaign rally said if elected as the next president in 2023, Tinubu will not fail Nigerians.
Buhari added that he trusts the dedication and service of the former Lagos State Governor.
Addressing the crowd of supporters at the rally, Buhari said: "We are all voting for Bola Ahmed Tinubu as the next President; he is a committed Nigerian, and he will not fail you."
"Asiwaju, you're going to win through and through, you're the next President of Nigeria. I trust in your dedication and service…."
I Will Campaign For Tinubu
Buhari in his speech also vowed to continue to campaign for Tinubu.
The president said: "I know Ahmed Bola Tinubu as he said in his speech more than 20 years ago and there is no local government area that I didn't visit from 2003-2011 and I visited all the states in 2019 when I was asking for this second term and the final term.
" I will continue to campaign for Bola Ahmed Tinubu. He is a committed Nigerian and I believe he will give all he has to this country and you Nigerians."
See the video:
Lai Mohammed Knows Aso Villa Cabal Working Against APC And Tinubu – El-Rufai
Governor Nasir El-Rufai of Kaduna has revealed that the Minister of Information and Culture, Lai Mohammed, knows those he is referring to as 'Aso Villa elements' working against the presidential ambition of Asiwaju Bola Ahmed Tinubu.
Recall that the Kaduna State governor had on Wednesday accused some unnamed persons in the presidential Villa of working towards the failure of the All Progressives Congress (APC) in the forthcoming election.
Responding to El-Rufai's assertion, Lai Mohammed, while addressing the State House Correspondents after the Federal Executive Council (FEC) meeting last Wednesday, noted that the Presidency is unaware of those in its fold working against the APC. He stated that President Muhammadu Buhari is solidly behind Tinubu.
But the governor, in an interview with Arise TV, insisted that the Information Minister knows the individual elements in the Villa that are working against the ruling party.