INEC Disappointed, Recounts How Pat Utomi Invaded Commission's Office In Lagos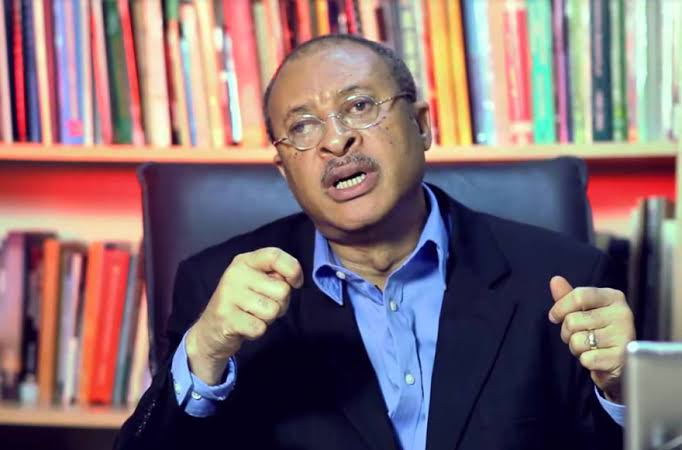 A Labour Party (LP) chieftain, Prof Pat Utomi has been accused of invading the premises of the Independent National Electoral Commission (INEC) in Lagos State on Thursday.
The commission in its expression of disappointment said it didn't expect such an action from a senior Nigerian like Utomi.
Naija News reports that INEC's Resident Electoral Officer (REC) in the state, Olusegun Agbaje made the disclosure when he was featured on Channels TV's The 2023 Verdict programme on Thursday.
Agbaje narrated how Utomi stormed its Oshodi/Isolo Local Government Area to hold what he called an illegal press conference inside its conference room.
According to him, "Today in Lagos, Pat Utomi did what we did not expect a senior Nigerian to do. He virtually invaded our office at Oshodi-Isolo Local Government Area with some people we didn't know and they held an "illegal" press conference inside our conference room at Oshodi.
"Pat Utomi is a senior person, we didn't expect that from him, that is an invasion. We informed the police accordingly and the DSS about this invasion. It is uncalled for, it is an act of intolerance on his part, what he did today would have led to violence."
The Lagos REC, however, explained if Utomi had contacted him over the issue he was aggrieved with, he would have offered some explanation.
Agbaje, who noted that the issue of double registration was the bone of contention, advanced that one challenge the commission is facing in its area in the state is that a lot of people who have already registered and moved from the South-East want to vote in Lagos but didn't transfer their Permanent Voter Cards (PVCs).
He further noted that instead of such people transferring their PVCs to Lagos, they do another registration which has now resulted into do double registrations, adding that people with that incident can't be offered PVCs again because the commission assumes they have one already from their previous locations.
Speaking about PVC distribution in the state, Agbaje disclosed that a total of 5,734,559 have been distributed from the old PVCs registered in 2011, 2015 and 2019 while 835,732 PVCs are uncollected.
For the newly registered PVCs of 2021 and 2022, the Lagos REC said 899,026 have been collected out of the total of 1.6 million received, while 168,000 of the new ones remain uncollected.
Giving a total figure, he noted that 6.6 million PVCs have been collected out of the total of 7.6 million, while about a million are still left uncollected, bringing the collection rate to 87% so far in the state.