We Were Bombed With High Explosives – CUPP Spokesman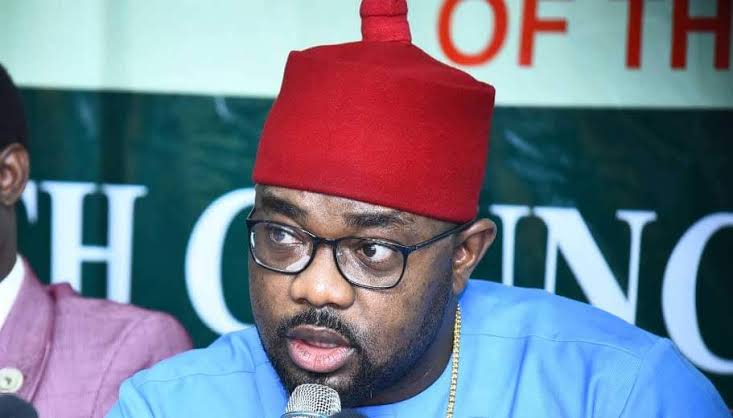 The spokesman for the Coalition of United Political Parties (CUPP), Ikenga Ugochinyere, has reacted to the gunmen's attack on his residence in Akokwa, Imo State on the 14th of January 2023.
Ugochinyere disclosed that the attack on his house was carried out by sponsored militia and not members of the Indigenous People of Biafra (IPOB).
According to Ugochinyere, high-grade explosives were used during the attack on his residence.
He further stated that thirty-three vehicles, motorcycles and other properties valued at about N550 million were burnt in the attack.
The CUPP spokesman said, "We were shot at, we were bombed with high-grade explosives, houses were levelled with bombs, those still standing were shaken to their foundations and vehicles numbering over 32 were all set ablaze with these explosives.
"Several motorcycles belonging to hardworking villagers were burnt amongst other property valued at over N550 million only was lost in the attacks. They attacked in broad daylight, firing from all angles and leaving over 500 bullet holes in the houses in my country home. Innocent people were killed for no reason."
He added that the gunmen that invaded his residence had the same semblance as the attackers that attacked his convoy on December 23 2022.
Ugochineyere alleged that the attack on his convoy was led by the Special Adviser to the Imo State Governor on Special Duties, Hope Uzodinma, Chinasa Nwaneri.
He accused the Imo State government of being responsible for the killing of his uncle, Daniel Iloabanafo Ikeagwuonu and others who lost their lives in the attack.
Ugochinyere said, "We got intelligence that a convoy of assailants was looking for the way to my country home. I did not see the message when it arrived because I was discussing with my team. But upon seeing it, I rushed out to inform the security men on duty to reinforce and organize and while that was going on, I sighted the convoy but before our security men could react, they opened fire at me.
"I only narrowly escaped being hit by the special grace and mercy of God. With the security men, we now rushed into one of our houses and formed a defence that they continued to hit on. Thank God we survived.
"Gentlemen, let me make it categorically clear; I was not attacked by members of IPOB. I was attacked by a state-sponsored militia that has semblance with the same team that attacked my convoy on December 23 2022 which was led by the Special Adviser to Governor Hope Uzodimma on Special Duties, Chinasa Nwaneri who was seated in a white Hilux van that was used for that attack.
"Nigerians will like to note that INEC has since removed over three million of such fake names imputed into the voter Register. It has also identified 25 of its staff who were involved in Omuma Magic and has commenced internal disciplinary actions against them. So when they say what we said was a lie, ignore them.
"Following that revelation of the compromise which spanned across 14 states and my quest for justice and action against all those who were involved, the Uzodimma administration became very uncomfortable with me and they started looking for ways to silence us.
"They know that if we could have got that information, then we would get more. First, they framed me for terrorism and arson, claimed that I was responsible for the burning of INEC offices in Imo State and that it was from documents I obtained from the burnt offices that I made the Omuma Magic allegations.
"They also made murder allegations against me. They made several other spurious and disgusting allegations. I endured all this and still kept calling for justice for the compromise of the voter register."
He displayed the photo of a Gold coloured Toyota Highlander SUV with Registration Number MUS 649 GF belonging to one Uzoma Chukwujieze and his wife Kelechi Chukwujieze from Ihiteafoukwu in Ahiazu Mbaise LGA in Imo State.
Ugochinyere said, "This vehicle was snatched in Owerri from Uzoma who was severely beaten by people matching the description of those who attacked my house. Uzoma is still in the hospital. This same Highlander was the first car in the convoy of cars that I saw with my own eyes that came to attack us in my house.
"So how was a Highlander taken from Owerri driven all the way to Akokwa, filled with gunmen and carrying all those explosives from Owerri without being spotted despite the checkpoints? These people asked for direction to my house and eventually hired a bike man who innocently led them to my house.
"While they were leaving in panic obviously having been informed that I had succeeded in sending out an SOS and there may be independent intervention, the car got stuck in a ditch and they were forced to bomb it there setting it ablaze but as God would have it, we were able to retrieve the half burnt number plate."