We Must Direct Our Efforts To Removing APC – Obaseki Reacts To Supreme Court Ruling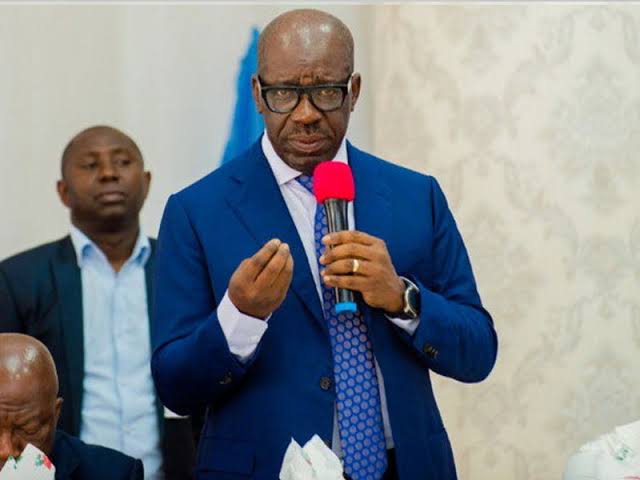 Governor Godwin Obaseki of Edo State has called on aggrieved members of the Peoples Democratic Party (PDP) to sheath their swords and direct their efforts to removing the All Progressives Congress (APC).
Naija News reports that Obaseki was reacting to the victory of his faction at the Supreme Court on Wednesday.
The apex court had ruled that candidates of the Obaseki's faction were the authentic to represent the PDP in the general election on the 25th of February and 11th of March 2023.
In a statement to Naija News, personally signed by the governor, Obaseki said the Supreme Court ruling has finally put to rest the long-drawn legal tussle over the candidates that will fly the flag of the PDP.
Obaseki said: "As the leader of the party in the State, I implore all members to consider this development as the end of all strife within the Edo PDP and to note that this is a victory for all members. Our resolve now is to win the forthcoming general elections as this experience has made us stronger and better prepared to clinch victory.
"This disagreement which has now been amicably resolved attests to the maturity of actors who as law-abiding party members have subjected themselves to and accepted the verdict of the courts.
"As there are no victors or vanquished in this issue, I want to call on all members of our party to come together to speak with one voice against the real opponents since our party is big enough to accommodate our variegated interests.
"The ongoing crisis in our Nation which has been choreographed by the All Progressives Congress (APC) is subjecting Nigerians to perhaps the most tortuous living conditions in our history since the Civil War between 1967 and 1970. Our efforts must now be directed to removing the APC from power and restoring our blessed Country.
"I, therefore, call on all our members in Edo State to stand up and be counted among the brave party men and women who stood to be counted in the execution of this all-important task to rescue Nigeria and pull it back from the precipice."