Tinubu's 'Balablu Bulaba' Is An Intentional Swag – APC Chieftain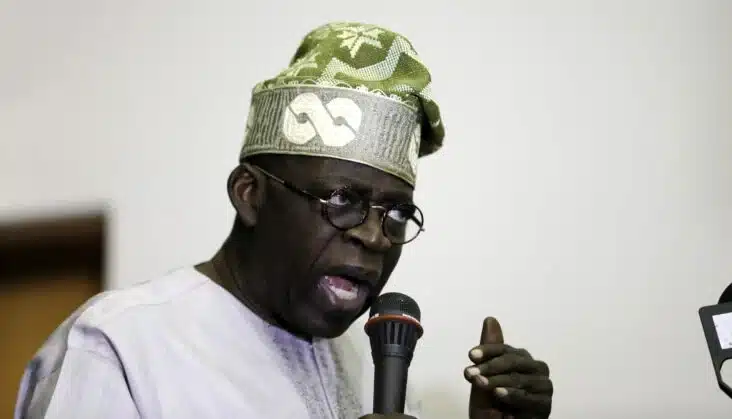 A chieftain of the All Progressives Congress (APC), Ayodele Adewale, has said that the party's presidential candidate, Asiwaju Bola Ahmed Tinubu, intentionally used the confusing and not meaningful slurry word – 'Balablu blu-blu bulaba', weeks ago to trend.
The APC State Organizing Secretary, Lagos State chapter, made the assertion while appearing live on Arise News Morning Show.
Naija News recalls that Tinubu, during a political engagement in Imo State in 2022, made a blunder when he said a town hall, different from 'balablu-blu-blu-bulaba.'
Nigerians mocked the APC presidential candidate following the gaffe, which trended on social media platforms.
Speaking, however, during an interview, Adewale defended the former Governor of Lagos State, saying the supposed gaffe was a slang.
According to him, Tinubu intentionally made many of the supposed gaffes to get people's attention to draw them to his programs.
Adewale said some persons are out there trying to water down the integrity of the APC presidential candidate.
He said: "Asiwaju was in Ogun State yesterday, and he was dancing. Do you know the weight of an Agbada? He (Asiwaju) wears it and dances with it. He moves around.
"Tinubu is the only presidential candidate that has gone on more campaigns, daily campaigns engaging with people for at least 18 hours a day.
When asked about Tinubu's slurry speech like Bulaba, Bala Blu, Adewale said: "There is something called swag. I might want to increase my social media trend to catch traction.
"Asiwaju only used swag to captivate and capture attention which he has achieved. So the more he uses the swag, it is a tactic. The more you use those swags, the more he gives you his programme when you come in," Adewale reiterated.
Watch the clip below:
Last week, the organizing secretary of the APC in Lagos State declared that the bullion vans spotted on the eve of a 2019 election at the residence of Asiwaju Bola Tinubu actually missed their way.
The APC chieftain submitted that the vans had no business at the Bourdillion residence of the former Lagos State Governor on that day.
Defending the 2023 presidential candidate of the APC further, Adewale said Tinubu didn't invite the vans or anyone in the house. He added that he was at the Lagos Bourdillion residence of Bola Tinubu on the day of the bullion van saga, and there was no money in the bullion vans.
Naija News reports he made the submission during a live interview on Arise TV's morning show.