Osinbajo Meets Fashola, Keyamo, APC Legal Team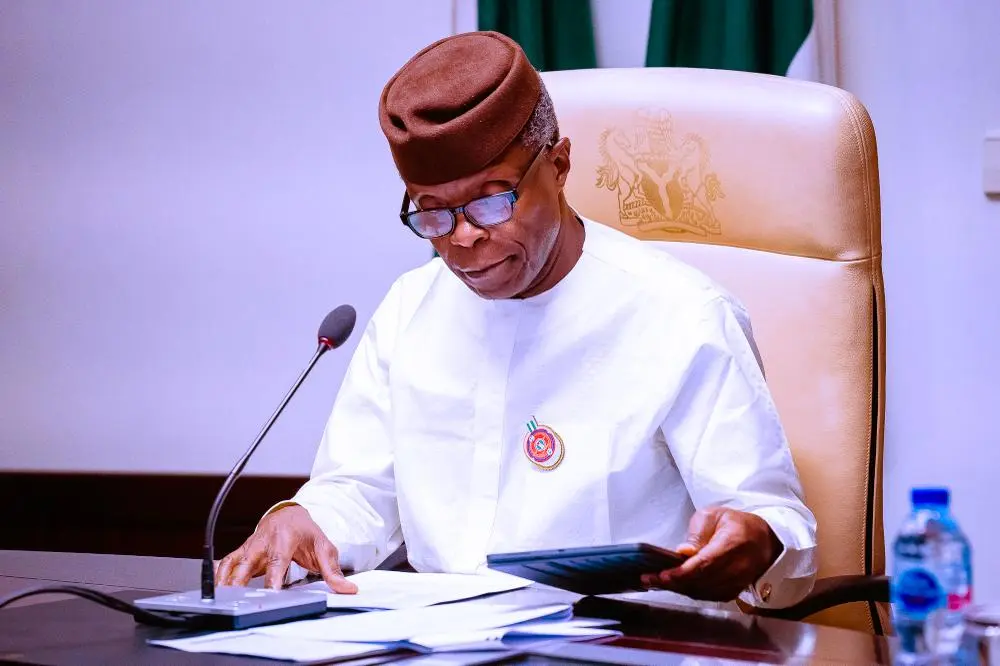 Vice President Yemi Osinbajo has met with the All Progressives Congress (APC) Legal Team and some senior lawyers in the President Muhammadu  Buhari Administration.
Naija News gathered that the meeting, which was held at the Presidential Villa after the weekly FEC meeting, was regarding preparations of the ruling party as the February and March 2023 polls, draws near.
Those at the legal meeting include the two Ministers who are Senior Advocates of Nigeria: Babatunde Fashola and Festus Keyamo. The current APC National Legal Adviser Barr. Ahmed El-Marzuk and his predecessor, Mr. Babatunde Ogala, SAN, were also in attendance among other party and government officials seen at the Villa today.
The APC chieftains were spotted at the Vice President's wing of the Presidential Villa but none of them addressed the press.
A source to Vanguard that the APC legal team discussed planning and reviewing the party's preparedness for the forthcoming elections with the Vice President.
The Peoples Democratic Party (PDP) presidential candidate, Atiku Abubakar, has accused his All Progressives Congress (APC) counterpart, Bola Tinubu, of pretending to be on the side of the people by criticising and distancing himself from the administration of President Muhammadu Buhari.
The former vice president said the APC candidate is desperately trying to attack the failed policies of the present administration which he had vigorously defended since 2015.
Recall that Tinubu, who had days back slammed the Buhari government for the redesigning of the naira notes and fuel scarcity, had on Tuesday in Calabar fired the present administration for failing to fix the exchange rate.
The former Lagos State governor had said: "Today, they moved the exchange rate from N200 to N800. If they had repaired it, if they had arrested this, we wouldn't be where we are today, we would be greater. They don't know the way, they don't know how to think, they don't know how to do it."
Reacting in a statement through his special assistant on Public Communication, Phrank Shaibu, Atiku said Tinubu has thrown Buhari under the bus in his failed and desperate quest for power.
Shaibu said: "Tinubu has disingenuously been criticising President Buhari, trying to extricate himself from the failures of the APC which he had vigorously defended in the last eight years. Nigerians must not be deceived by this charlatan who is now posing to be on the side of the masses.
"It is funny that Tinubu, who proudly held the position of national leader of the APC for the last eight years, could throw the President under the bus in his failed and desperate quest for power."