Fuel Scarcity Not Deliberate Attempt To Sabotage Elections – Kyari Replies Tinubu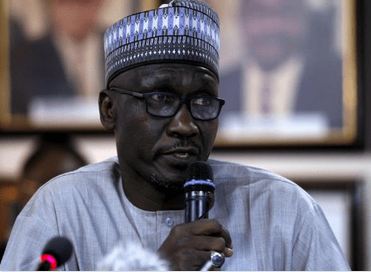 The Group Managing Director of the Nigerian National Petroleum Company (NNPC) Limited, Mele Kyari, has rejected claims that the petrol scarcity in the country is a deliberate attempt to sabotage the forthcoming general elections.
Recall that the presidential candidate of the All Progressives Congress (APC), Bola Tinubu, said the petrol scarcity and the naira redesign were attempts to sabotage the forthcoming elections.
Speaking during an appearance on NTA's 'Good Morning Nigeria' programme on Thursday, Kyari said the lingering fuel scarcity in the country has nothing to do with the elections.
The NNPC boss said the petrol scarcity situation began in 2022 and it is a cyclical issue, adding that arbitrage has a significant impact on the product's scarcity.
Kyari said it was out of context and impossible to link petrol shortage to the elections, urging those making those claims should desist from such.
He, however, assured Nigerians that the corporation is working tirelessly to address the petrol shortage before the February 25 presidential election.
Kyari said: "I do not think anybody sits down to orchestrate that there should be scarcity so that it will impact elections and so on. I don't think it happens that way if it is so. But it is not true because the reality is that these glitches actually started early in 2022.
"It has nothing to do with this election period. Once you have a challenge of this nature, it is a cyclical thing. Once you have this challenge, they continue to come up, and then once you have arbitrage issues, you have this glitch.
"Today, our redundancy in terms of petroleum products supply is just three days in this country. Once you have a glitch that extends longer than three days, you need another three weeks to stabilise it. So irrespective of who does what, whatever causes the three-day glitch, it is a nightmare waiting to happen.
"Once we see this glitch, that is why we do everything possible to avoid the glitches from happening. I do not think anyone will sit down and say let us create this so that there will be an impact on the elections and so on.
"There is no benefit in it. No one would do this and I can tell you this very clearly that there is no one issue, being the direct report to Mr. President, there is no one issue that bothers him like this. There is no briefing that I do to the president that he does not mention this.
"Yes, there are a lot of glitches. There are a lot of logistics and nightmares. Greed has come into play. There are cross-border issues that we have to deal with. There are international market situations that you have to deal with."