Tinubu, Peter Obi? Wike Reacts To Threat To Publicly Announce Preferred Candidate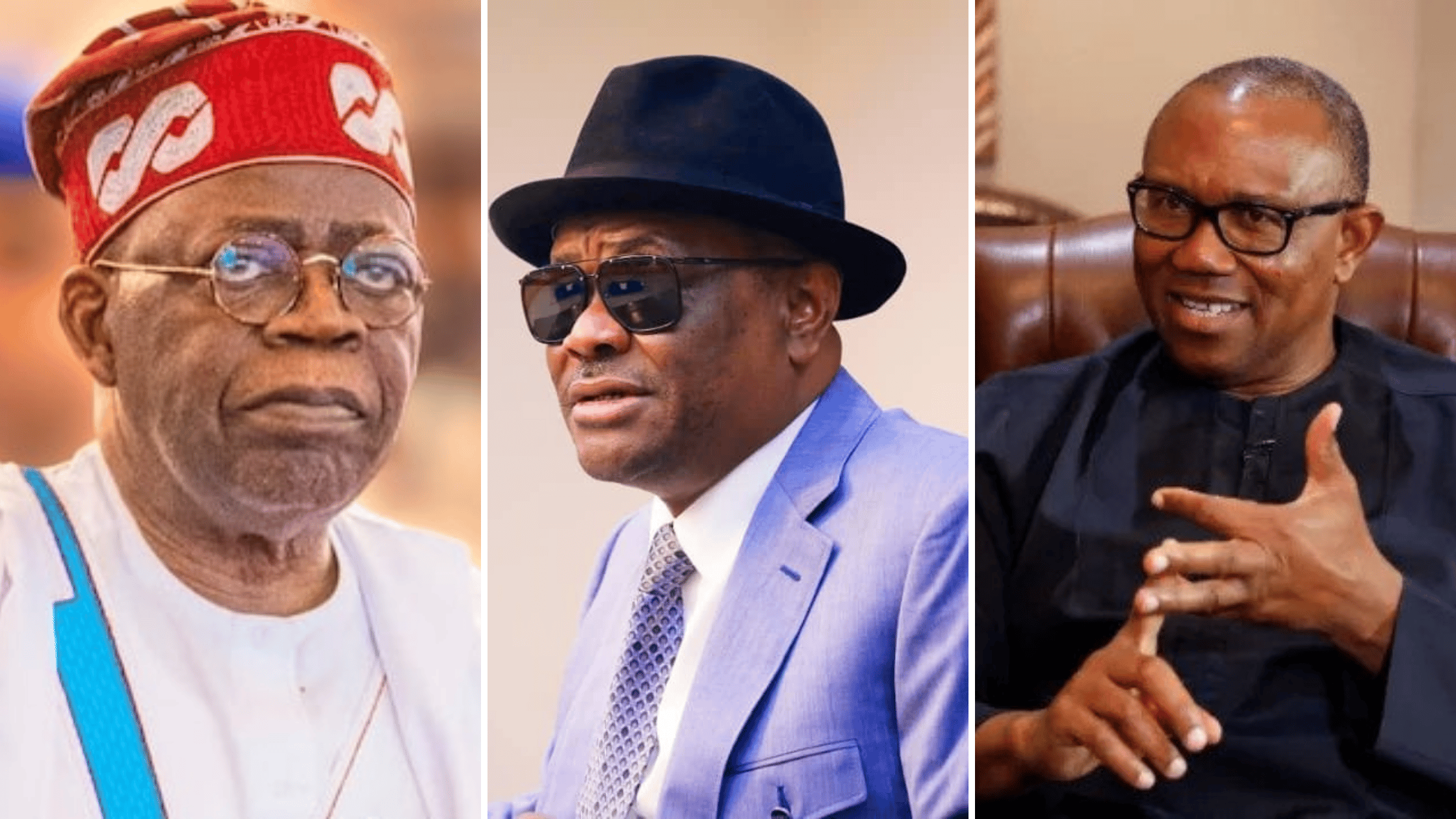 The Rivers State Governor, Nyesom Wike, has slammed the former Director General of the Nigerian Maritime Administration and Safety Agency (NIMASA), Dakuku Peterside, over the threat to publicly name his preferred presidential candidate, ahead of the forthcoming election.
All eyes have been on Wike in the light of his assurance that he would make his preferred candidate known in January 2023.
There has been speculations that he would choose between the All Progressives Congress (APC) candidate, Bola Tinubu, and Labour Party (LP) flagbearer, Peter Obi.
Naija News earlier reported that Dakuku on Tuesday during the APC rally in Opobo-Nkoro accused Wike of placing personal interest above public interests.
He added that Wike is not a man of courage as he ought to have publicly revealed his preferred presidential candidate for the February 25 polls.
Wike Speaks
However, Wike while speaking at the PDP governorship campaign rally in Port Harcourt on Wednesday fired back at Dakuku, stating that failure and success are not at the same level.
Setting the record straight, the governor refuted claims that he would publicly announce his preferred candidate saying that residents of the state are already aware of his choice.
He said: "You have the guts to tell me I should name my presidential candidate. Are we at the same level? Failure and success, are they the same?
"Look at the man who is always failing every day. He does not understand the activities of G5. I have told most people who don't know, G5 that we're fighting is like guerilla warfare. The more you look, the less you see.
"I never told anybody one day, I will bring a camera and announce to you this is who will go. I said I will tell Rivers people the candidate they will support. I did not tell you the method of saying it. I did not tell you I will bring live coverage and say it. But Rivers people know."
Wike further made a mockery of Peterside over his defeat in 2015, and 2019 governorship races as well as his failure to secure a second term as DG of NIMASA
He said: "Look at this small boy whom I flogged in 2015. I don't know where they say he comes from – is it Abia or Opobo side, which of the areas? Envy! I flogged him out in 2015.
"He has not recovered from that. He thought they would give him a ticket in 2019, but he didn't get [it]. They sent him to be NIMASA. Ask him, what did he bring for Rivers people?
"You have a position, you cannot help your people, and you're coming out to open your mouth, simply because you didn't get [the ticket] and they did not give you a second term to be DG of NIMASA."