PDP Crisis: Wike Revokes Approval Of Campaign Venue For Atiku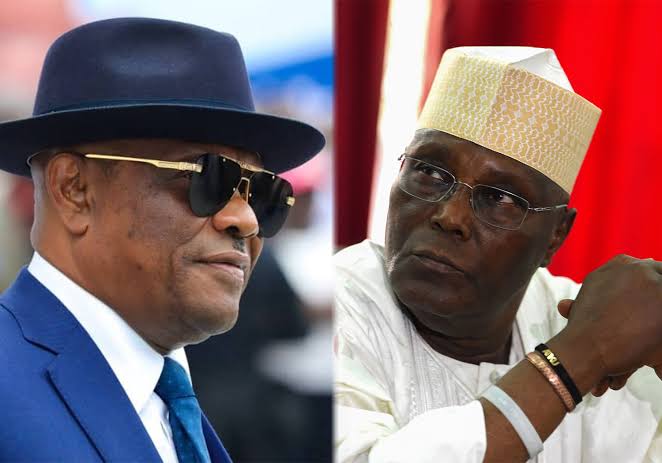 Governor Nyesom Wike-led government of Rivers State has reportedly disapproved the Adoki Amasiaemeka Stadium, Igwurita Ali, Ikwerre Local Government Area, for use by Peoples Democratic Party (PDP) presidential candidate, Atiku Abubakar.
Naija News understands that Atiku and his campaign train are scheduled to hold a rally at the venue on February 11, 2023.
A statement, however, emerging from the state government on Wednesday announced the withdrawal of approval given to the former Vice-President earlier.
PDP had gotten approval for the use of the venue a couple of weeks ago, though with the condition that the government would access the venue 48 hours before the electioneering event.
However, in a letter dated January 31, 2023, that was addressed to the Director General of the Atiku campaign organisation and Governor of Sokoto State, Alhaji Aminu Tambuwal, Rivers State Commissioner of Sports, Barrister Christopher Green, said intelligence revealed that Atiku campaign organisation was collaborating with the governorship candidate of APC, Arch. Tonye Cole, to accommodate and share the approved facility for the presidential campaign.
The letter reads: "Refer to our letter of reference no.mos/s/409/s.49./t/15 of 11th, January 2023 approving the use of the Adoki Amasiaemeka Stadium for your presidential campaign rally scheduled to hold on the 11th, February 2023, credible intelligence available to Rivers State government and recent development now show that your presidential campaign organization is working in collaboration with a faction of APC and its intention of your presidential campaign organization to accommodate and share the approved facility for your campaign with the said faction of APC.
"Government record shows that the activities of the APC in Rivers State have always been marred by violence due largely to irreconcilable internal conflict within the party."
Wike's government argued that due to credible intelligence, it has decided to withdraw the approval for the stadium for use by the Atiku presidential campaign.
Naija News understands that the PDP Presidential Campaign Organization in Rivers State is yet to officially react to the latest development.
Recall that Governor Wike is leading five aggrieved PDP governors against the party's leadership. The governors tagged the G-5, have vowed not to support the party's presidential candidate in the coming election except the national chairmanship position is occupied by a Southerner.