Northern APC Governor Accuses CBN Of Hoarding New Naira Notes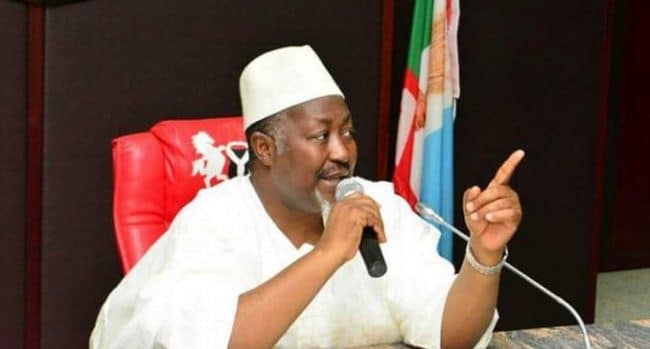 The Jigawa State Governor, Mohammed Badaru Abubakar has accused the Central Bank of Nigeria of releasing insufficient naira notes to the public thus causing hardship to Nigerians.
The Governor said in Jigawa State, economic activities have been paralyzed as even the commercial banks confirmed they do not have enough new naira notes.
He expressed worry that people have to queue for long hours at the ATM points and even spend nights at the ATM points in order to have access to the new notes.
According to the Governor, the business of POS operators has been crippled because they also don't have enough funds.
Governor Badaru expressed his view in a statement on Wednesday by the state's commissioner for finance and economic development, Babangida Umar Gantsa.
He said: "the Jigawa state governor Alhaji Mohammed Badaru Abubakar is seriously worried on the difficulties created by the Central Bank of Nigeria CBN on redesigned currency policy and inadequate supply of cash to commercial banks.
"You can see by yourself, people spending nights at ATMs queuing to withdraw cash from the commercial banks.
"Worried  by the situation, he (Mr Governor) asked me to go round the commercial banks in the capital city where the bank managers confirmed to me that the Central Bank of Nigeria refusing them enough cash to load at the ATM for people to withdraw."
"There is one ATM point where I counted 215 people waiting to withdraw cash. In other banks, ATM there is more than 250 in one ATM point. They said many of them spend nights there."
He added that "the problems had already crippled the Point of Sales (POS) businesses in the State as a result of lack of new naira note".
Old Notes Won't Be Legal Tenders After Feb. 10
The Central Bank of Nigeria (CBN) has said the old N200, N500, and N1000 notes will no longer be tenable after February 10 deadline.
Naija News reports that the Director, Corporate Communications Department at the CBN, Osita Nwanisobi, made this known in a chat with reporters on Tuesday in Abuja.
Nwanisoobi spoke with reporters after the meeting between the CBN Governor, Godwin Emefiele, and the House of Representatives Ad-hoc committee on naira redesign.
The CBN spokesman explained that the old notes would cease to be legal tender after February 10, 2023, and could no longer be used for any form of transaction afterward.
He stated that in line with the provision of Section 20(3) of the CBN Act, Nigerians would have the opportunity to redeem the face value of the naira only at the CBN, after the currency had lost its legal tender status, subject to meeting certain conditions.
Nwanisobi said Nigerians would not lose their money, even as he urged citizens to take advantage of the extended deadline of February 10, 2023 to deposit the old banknotes currently in their possession at their banks or through mobile money agents.