PDP Blames Tinubu For Attack On President Buhari In Kano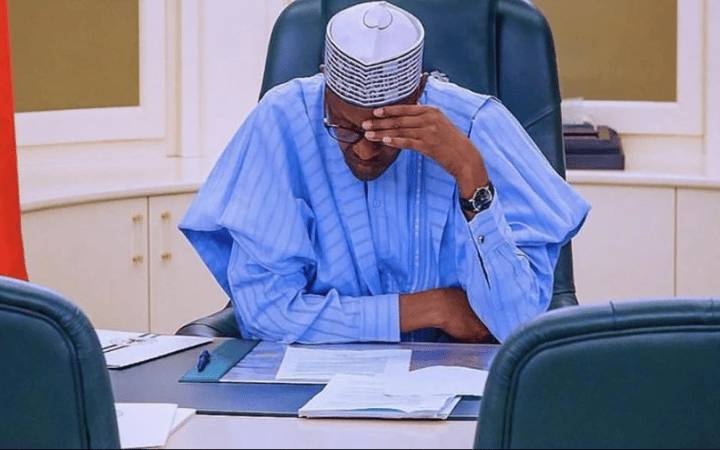 The presidential candidate of the All Progressive Congress (APC), Bola Tinubu has been blamed for the attack on President Muhammadu Buhari in Kano State on Monday.
The main opposition, who condemned the act, described it as an outrightly treasonable and sacrilegious assault on national sovereignty.
From a statement signed by the PDP's National Publicity Secretary, Debo Ologunagba on Monday, Naija News gathered that Tinubu was alleged to have sponsored the attack on the president.
The main opposition claimed that it is a part of plans by Tinubu to undermine the presidency, and cause violence.
Recall that the president was attacked by alleged miscreants in Kano State on Monday when he was there to commission the 41-terabyte national tier-4 Data Center in Kano.
Reacting to the attack, the PDP,  in the statement, submitted that "Our Party is alarmed that this attack is part of APC Presidential candidate's alleged plot to undermine the Presidency, cause confusion, trigger violence in the country, disrupt the conduct of the 2023 general elections and derail our democracy, having realized that he cannot win in a peaceful, free and fair electoral process.
"The PDP invites Nigerians to note how Governor Abdullahi Ganduje attempted to abridge President Buhari's movement and even tried to stop him from visiting Kano State.
"More disquieting is the fact that the APC Presidential Campaign sought to humiliate and harm President Buhari, while performing his official duties in Kano.
"It should be noted that the APC Presidential candidate has been displaying open aversion and making inciting statements against President Buhari since Mr President's declaration, in line with democratic best practice all over the world, that Nigerians should freely vote for any candidate and Party of their choice in the 2023 general elections.
"The apparent frustration of Asiwaju Tinubu to resort to encourage or condone violence is fueled by his entitlement mentality, that it is his turn to be President, despite his numerous ineligibility and disability baggage.
"Nigerians are reminded about Asiwaju Tinubu's infamous statement in London where he declared to his supporters that 'political power is not going to be served in a restaurant, it is not served a la carte. It is what we are doing; It is being determined; you do it at all cost; fight for it, grab it, snatch it and run with it'.
"Only recently, Asiwaju Tinubu further incited his followers against President Buhari at APC's Presidential Rally in Abeokuta, Ogun State, where he accused Mr President of attempting to subvert the electoral process.
"It is now clearer why the APC Presidential Candidate brazenly established a militia code-named "the Jagaban Army" which is designed to undermine our national security, unleash violence on institutions of democracy and disrupt the electoral process.
"The PDP counsels the APC Presidential candidate to come to terms with the fact that Nigerians are determined to have free, fair and credible elections and that they are unwavering in their choice of the PDP Presidential Candidate Atiku Abubakar as the next President of our country."