I Will Cage It – Tinubu Makes Solemn Promise As He Storms Peter Obi's State For Presidential Rally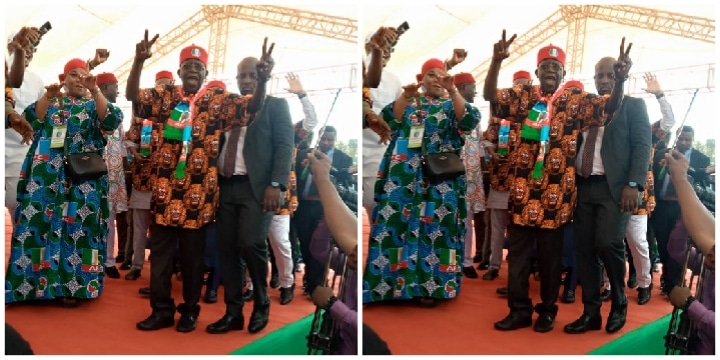 The presidential candidate of the All Progressives Congress (APC), Asiwaju Bola Ahmed Tinubu, has promised the people of Anambra that he would tackle the state's erosion menace the same way he "caged" the Atlantic ocean surge in Lagos State.
Naija News reports that the Eko Atlantic City in Lagos comprises a total of 10 districts, spread across a land area of approximately 10 square kilometres (3.9 sq mi) reclaimed from the Atlantic Ocean.
It was a pet project of Tinubu during his time as the governor of the state but his successor, Babatunde Fashola drove the project to the implementation stage.
Tinubu, while speaking during his Presidential campaign rally in Awka, Anambra state capital on Tuesday, said if elected, he would make Anambra the industrial hub of the country
He said, "I have come here to promise you development. We will industrialize Anambra State. You know me, I am the city boy of Lagos; I caged Atlantic ocean in Lagos, the way I handled the Atlantic ocean in Lagos, I will handle erosion menace in Anambra State. We will make value of your property. We will create jobs for our Youths, we will make Anambra State an industrial City. We will create better jobs for our Youths and also make the state more resourceful.
Tinubu also took a swipe at the Presidential candidate of the Peoples Democratic Party (PDP), former Vice-President Atiku Abubakar, describing him as "lie, lie."
He also enjoined the electorate to reject his Labour Party counterpart, Mr Peter Obi, as according to him, "Peter will deny his campaign promises as the biblical Peter did three times."
"Don't mind those coming here to lie to you. When they bring their lies come, tell them na lie lie. For Peter Obi, you remember how Peter in the bible denied Jesus three times before cock crow, na like that he go deny his campaign promises…" he stated.