Gbajabiamila To Sign Warrant Of Arrest On Emefiele Tuesday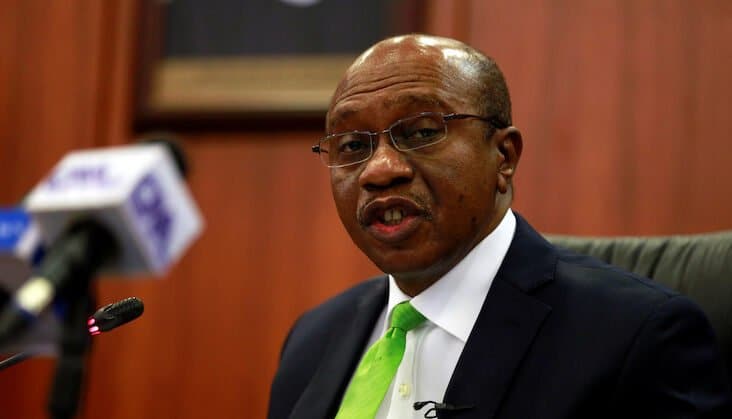 The Speaker of the House of Representatives, Femi Gbajabiamila is expected to sign the warrant of arrest against the Governor of Central Bank of Nigeria (CBN), Godwin Emefiele during plenary on Tuesday.
The development was confirmed by the Chairman of the House Committee on Media and Public Affairs, Benjamin Kalu during an interview with Tribune.
Kalu disclosed that the majority leader in the house, Alhassan Ado-Doguwa met with President Muhammadu Buhari where he briefed on the need for Emefiele to appear before the house over the new cash withdrawal limit and cash swap policy.
He further stated that Emefiele had always acted without briefing the Parliament on the policies reeled out.
Kalu noted that it became important to compel him to brief the Parliament in line with Section 8 subsection 4 of the CBN Act.
He said: "At the last sitting, there was a resolution by the House that the Speaker will sign a warrant of arrest for the Inspector General of Police to compel the appearance of the CBN Governor if there's no communication from CBN either directly by the CBN Governor or anybody designate to do that.
"As of the close of work today, there is none of those communications, has been received. And since its ruling of the House, the speaker is bound to sign that warrant of arrest by tomorrow (Tuesday), unless there is any intervention between this night and tomorrow.
"The Leader of the House who's the Chairman of this Ad-hoc Committee on change of naira notes is also insisting that the extension by 10 days is not sufficient and has nothing to do with the invitation. It is in line with the CBN Act that they should first comply with the invitation and convince the House on why they are amending the policy at this critical moment and why the House was not contacted this while."
Kalu noted that the CBN Governor is expected to appear before the Ad-hoc Committee.
Speaking on the view of some CBN staff that the CBN is not under obligation to answerable to the Parliament before implementing any of its policies, Kalu said, "No particular Institution of any arm of Government is empowered by the Establishment Act to be greater than the Parliament because its the Parliament that makes the law. And when you look at the CBN Act, Section 8 subsection 4, has that the Parliament has to be briefed on major policies and it has to be done periodically.
"But since this CBN Governor has come into place, in the 9th Assembly he has never had a periodic briefing on any of his activities. So. That is the position of the law.
"We can't watch the situation as it is without invoking the provisions of the law and asking the respected Agency to comply with the law of the land."