Business Booms For Currency Exchangers As They Take Over Naira Swap Amidst Scarcity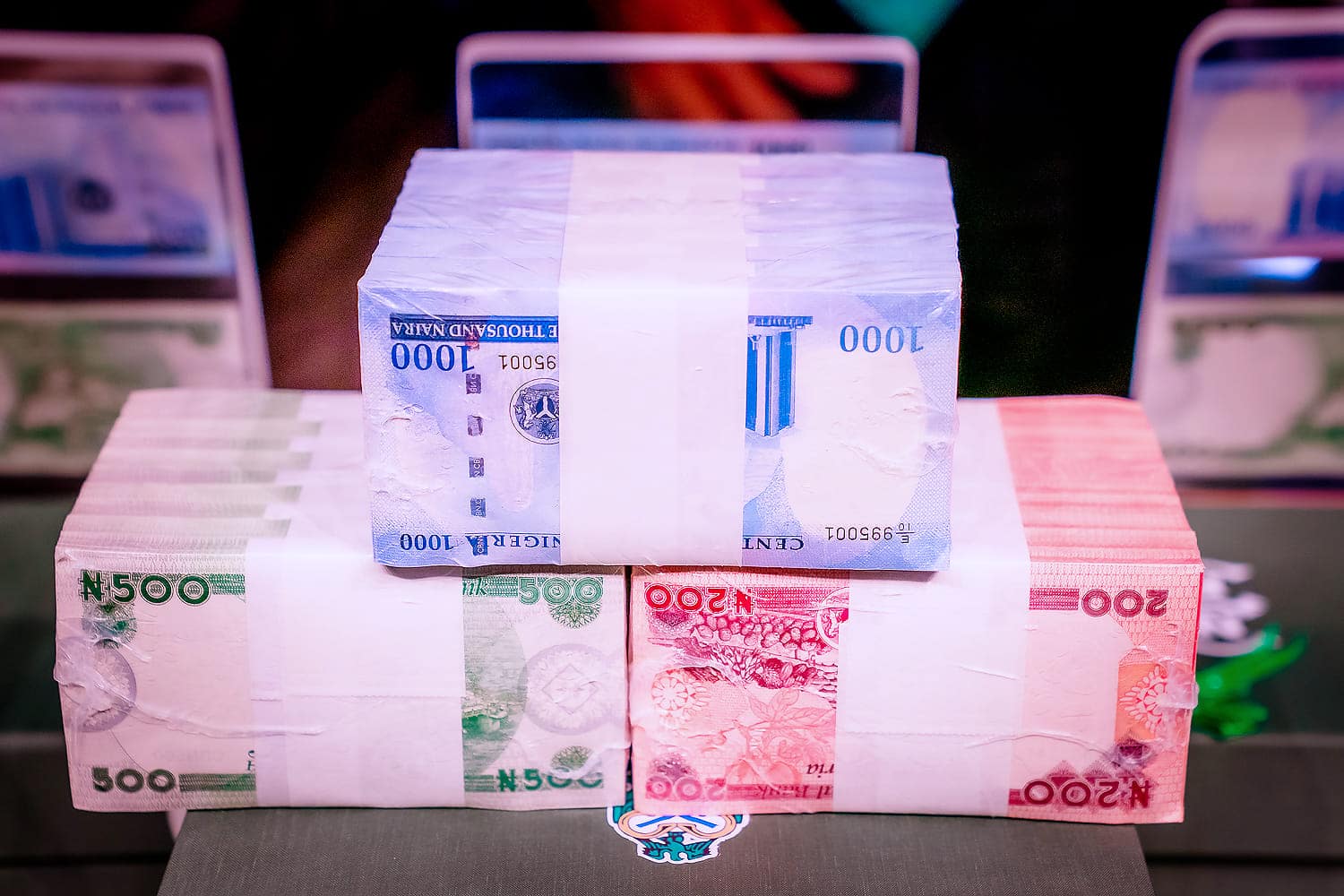 The scarcity of the new naira notes has provided booming business for operators of black market currency exchanges as they have taken over the naira swap from banks.
Naija News reports that this is as the Central Bank of Nigeria (CBN) has extended the deadline for the collection of the old currencies.
It was learnt that currency racketeers took advantage of Nigerians who are too busy or impatient to join tiring long queues at bank Automated Teller Machines (ATMs) stands across some states of the federation.
This platform gathered that it wasn't business as usual for these currency racketeers on Monday as the scarcity of the new naira note took a turn for the worse, which warranted the sales of the new notes to desperate Nigerians.
Naija News understands that some of these racketeers who spoke with Punch revealed that they maintain a relationship with bank staff to assist in getting the notes.
They said even though they don't pay to get the new notes, they only give incentives to some of the banks' workers because they are increasing demand for the new currency.
One of the currency exchangers in Abuja identified as Abdul Mohammed, who is said to be operating under the Dei-Dei pedestrian bridge in the Federal Capital Territory (FCT) told Punch that the inability of banks to distribute the new notes has increased the demand for them.
Mohammed submitted that "We normally sell N10,000 for N13,000 and N20, 000 for N26,000. I will provide all the denominations you want. I have N200, N500 and N1,000 new naira notes.
"The new notes are very scarce and that is why we charge more. Getting the new notes is very tough and expensive for us. The issue of changing the notes has caused a lot of problems. There is high demand for it. I get the notes at very expensive rates too.
"It is also not available at banks because people are rushing to buy it there; we are not enjoying the business at this time.
"We sell a bundle of 200 notes for N300,000; N500 is even cheaper than that. Some get it from the bank but it gets exhausted quickly."
Another exchanger in Abuja who pleaded anonymity also told Punch that "Currency exchangers basically form relationships with bank staff. If I need an amount, all I do is put a call through to my contact in the bank, ask for the availability of what I need, find out the buy rate, and buffer it by N5-N10 to resell.
"Most times, we don't offer the bank staff anything. We just give incentives once in a while. Except there is high demand and limited supply, that's when they can demand something. N50,000 mint (new notes), for example, could resell for about N53,000 or N60, 000, at most."
The situation wasn't any different in Lagos State as Naija News learnt that racketeers had taken over the naira swap initiative in alleged deals between them and some bankers.
It was gathered that currency racketeering was on full display at Access Bank located on Ikorodu Road in Lagos on Monday.
A resident, who chose to speak on condition of anonymity said that "I went to the Access Bank to withdraw some money. Out of all the nine Automated Teller Machines on the bank premises, only one was dispensing the new notes with an N20,000 withdrawal limit.
"However, due to the long queue of customers on the bank premises, a woman whom some people had accused of using different ATM cards to empty a nearby Zenith Bank machine began to sell the new notes to those who could not withstand the long hours on the queue."
She narrated how the said lady charged N1,000 per N10,000 and N5,000 per N100,000 for the new notes.
Also, some PoS operators in Ogun and Lagos disclosed how they bought the new notes from bankers and black market operators.
A PoS operator at Berger bus stop said that they could not get the new notes from banks due to the scarcity, alleging that some bankers and black market operators were selling the new notes at outrageous rates, making it difficult for them to maintain the previous charging rates.
She said, "We cannot continue to charge our customers the previous rate. Some bankers sell the new notes to us. At times, we get them from the black market. On every N100, 000 new notes we collect, there is a charge of N5,000. Some currency operators charge as high as N10, 000 for N80, 000."
At the Computer village, in Ikeja, Lagos State, it was observed that a number of shop owners were selling new notes to customers.
One of the shop owners explained that "I have been gathering the new notes for two weeks now. I was lucky to get some at a party I attended on Saturday. However, I had to pay some fees to buy additional new notes. I'm glad I am making some profit from this."
Another PoS operator at the Egbeda area of Lagos State submitted that "Here, they sell new notes; N5,000 comes with an extra charge of N500 and above, depending on how you negotiate. Then for N10, 000 new notes, it comes with an extra charge of from N1,000 and upwards," while another in Ikeja also noted that "I had to pay the cashier at the bank to get the new notes and that's even because I'm a regular customer at that branch. Even at that, I still spend hours in the banking halls."
Meanwhile, Naija News learnt that in Delta residents were said to be displeased with banks as it was the N50 denomination being dispensed by ATMs of most banks.
A disappointed customer in Delta State narrated that "I came here to withdraw money but the ATM was dispensing N50 denomination and the maximum you can withdraw is N2,000, which is too bad.
"We are not even seeing the new notes; when you go to some ATMs, only one machine will be dispensing money. That's why you see this long queue."
However, in Kwara State, it was learnt that a flat rate of 10% was being charged by the exchangers on every transaction made by customers for new notes.
One agent in the state said, "We have to ration the few new naira notes because we cannot get enough new notes from the banks."