Buhari: They Might Have Planned To Embarrass Him And Put The Blame On Me And Ganduje – Tinubu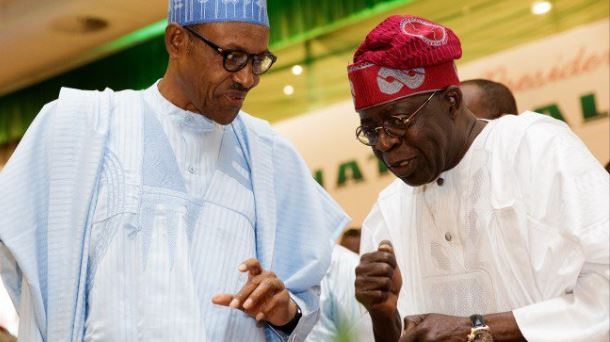 The presidential candidate of the All Progressives Congress (APC), Asiwaju Bola Tinubu has called for the arrest of National Publicity Secretary of the Peoples Democratic Party (PDP) Debo Ologunagba.
The APC flag bearer insisted that Ologunagba must be arrested for spreading what he described as fake news on the purported attack on President Muhammadu Buhari on Monday in Kano.
Tinubu, in a statement issued on Monday night in Abuja and signed by the Director, Media and Publicity of his campaign council, Bayo Onanuga stated that the PDP has decided to peddle fake news having noticed that their presidential campaign is crumbling.
He said that he was not shocked at the fake news by the opposition, maintaining that only the evil imagination of the PDP could conceive such a story
The former governor subsequently called on security agencies to arrest the National Publicity Secretary of the PDP over his imaginary attack.
He said, "This invented attack on President Muhammadu Buhari must have happened only in the fertile imagination of PDP National Publicity Secretary, one Debo Ologunagba.
"Only the evil mind of PDP could conceive an attack on a President of Nigeria.
"It is not impossible that PDP through its paid agents would organise miscreants to stage-manage an attack. But we are sure the security agencies are capable of foiling any planned attack on the President and anyone who is caught in such an unholy plot now or in the future will have himself or herself to blame.
"We call on the security agencies especially the Police and Department of State Services to immediately arrest PDP National Publicity Secretary for interrogation over this imaginary attack."
Speaking further, Tinubu urged Nigerians to disregard the fake news, insisting that the PDP had lost touch with reality and was suffering from the agony of violating its own rules on power.
The APC flag bearer claimed that the opposition might have planned to embarrass the president and put the blame on him and the governor of Kano state, Abdullahi Ganduje.
We believe the party may have planned to embarrass President Buhari in Kano and then put the blame on host Governor Ganduje and Tinubu.
"This is because PDP has of recent morphed from being a Buhari virulent critic to strangely becoming a Buhari spokesperson! The last time it issued a self-serving misinterpretation of Asíwájú's statement in Abeokuta as an attack on President Buhari.
"It should be quite obvious to Nigerians that the knowledge of impending defeat of PDP at the coming presidential poll has pushed the party and its candidate into frenzied hallucinatory mode of mindless, ridiculous, ludicrous litany of lies and fabrications against APC and its candidate.
"The PDP is a drowning party feverishly clawing at any straw of lies and lashing out in all delusional directions to keep afloat – but sink it will, ha added.
Tinubu noted that contrary to the news peddled by the PDP, the President was warmly received in Kano and commissioned eight projects including an overhead bridge with an underpass and a cancer centre.
"On Sunday, we alerted the nation to the plot by PDP to orchestrate and execute many evil plans to defame, ridicule and delegitimise President Muhammadu Buhari and our presidential candidate, Asiwaju Bola Ahmed Tinubu.
"Nigerians of goodwill would have seen by now that we didn't raise false alarm in our statement issued on 29 January , 2023 where we detailed the evil machinations of PDP and their hirelings", Tinubu stated.