Tinubu Sparks Reactions As He Shows Off Dance Moves In Uyo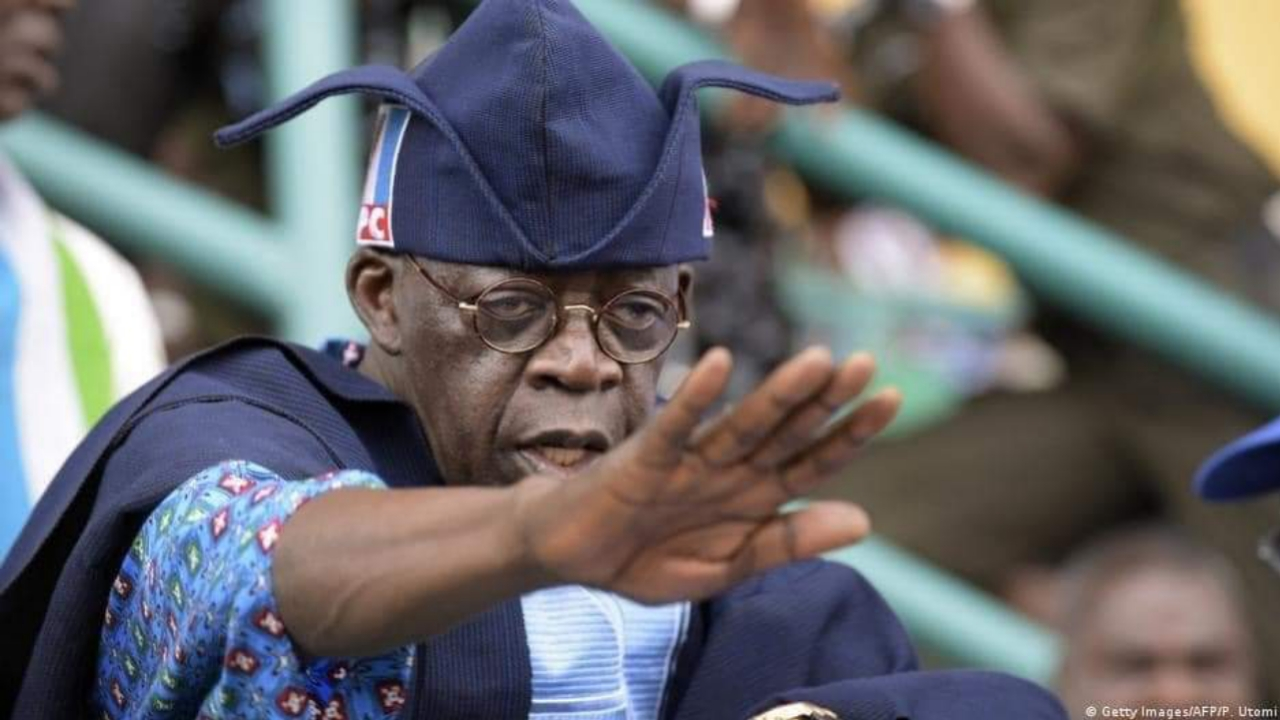 The presidential candidate of the All Progressives Congress (APC), Bola Tinubu got Twitter buzzing with reactions on Monday following his dance moves at the Uyo campaign rally.
The former Lagos State Governor was captured in a video clip vibing to a song on stage as the musician praised him and called him Jagaban.
It would be recalled that Tinubu and his running mate, Kashim Shettima along with other APC chieftains had earlier stormed Uyo, Akwa Ibom state where a huge crowd turned out to welcome them.
At the rally, Tinubu showed off some dance moves just for a few seconds and then hit his chest in acknowledgment as the artiste called Jagaban repeatedly.
Watch the video below.
Below are some reactions.
@fa4our: He's dancing like a toddler
@Frankieuz69: Let him engage Nigerians. We're not looking for Michael Jackson.
@fakunleademola1: Lol. I can't see any dance or is there a new dance that u will only be using ur hand to beat ur chest.
@SChekwubegod: Just dey do Nigeria the more you look the less you see.. he is going no where.. he has a dead brain.
@kennykayode8: Rented crowds. Lol.
@kboyy: Town hall DJ bala blu.
@Ademotayo1: Daddy Onanuga, It is so sad that dance, orin ote kiko, and abuse are the only feedback from all the political rallies. In this 23rd century, election campaigns should be about your manifesto. People are hungry and unemployed, and children are dying but U guys are dancing.
The video also attracted more knocks for one of Tinubu's campaign directors, Bayo Onanuga who shared the video as he said Tinubu dances effortlessly because he was a DJ.
Onanuga wrote: "Asíwájú Bola Tinubu dances up to the lyrics and rhythm of 'Jagaban' in Uyo. People sometimes wonder why the APC candidate dances often effortlessly. The reason is that the City Boy was once a Dee Jay."
Below are some more reactions.
@realasorock: Omoh e no get wetin this my guy never do oo. Em don sell drugs, do real estate. Now we dey hear say em don do dj (no wonder em hand dey shake always). I sure say em don do yahoo before.
@CjayAkabike: How can your city boy once be a DJ when none of y'all knows his root 😂, the last compilation of his life you guys made was to use the youth pic of Donald Duke, ain't you guys ashamed of yourselves?
@Dec_Uche: Are you not still shameful of supporting unstable Tinubu who chiefly said Atiku was a Senate President and also says F- level instead of F9.