DSS Opens Up On Nnamdi Kanu Being Poisoned In Custody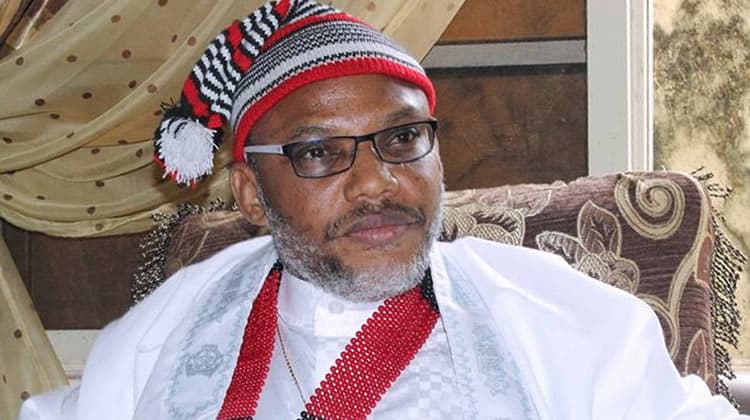 The Department of State Services (DSS) has opened up about the allegation that the leader of the Indigenous People of Biafra (IPOB), Nnamdi Kanu is being poisoned in its custody gradually.
Naija News reported on 27 January that IPOB alleged that its leader, Kanu is slowly being poisoned to death by the DSS.
The group, in a statement issued by its Media and Publicity Secretary, Emma Powerful alleged also that Kanu claims the DSS hasn't allowed him access to a doctor since December.
IPOB among other complaints also claimed that Kanu is dying through a silent and systematic process of gradual starvation, adding that it is a clandestine plan to eliminate him through poisoning, drug abuse and starvation, adding that he is fed twice a day on bread and water without medication for the treatment of his ailment while in the DSS solitary confinement facility in Abuja.
The statement read in part "The secret police want to eliminate Mazi Nnamdi Kanu through a silent and systematic process of gradual starvation of giving him only bread and water twice a day and drugs abuse by providing him insufficient medication for his known ailment while in their solitary confinement facility in Abuja.
"Kanu had complained very sadly that he is dying slowly. He also complained bitterly that the DSS has subjected him to drug abuse as medication required for two weeks is provided for only 8 days.
"He complained that he hasn't been allowed to see any doctor since the second week of December 2022 and DSS has refused to take him to the doctor in spite of his deteriorating health. He says he feels his internal organs are badly affected yet the DSS have refused to take him to a hospital. He also complained bitterly about pain and sound in his left ear where he was tortured in Kenya before being Extraordinarily Renditioned to Nigeria."
However, it was learnt that the DSS has dismissed all IPOB's claims about the treatment of its leader who is in their custody.
DSS said the issue with Kanu was political therefore Nigerians should disregard the report of him being poisoned.
Naija News understands that an operative of DSS, who spoke on basis of anonymity to Daily Post said Kanu is being treated well.
According to the DSS operative, the allegation levelled against the agency by IPOB was a lie, and that they have no reason to deny Kanu from seeing his doctors.
The DSS source submitted that "Nnamdi Kanu can't be denied access to his doctors, and what is happening to him is political. Even if the prisoner is a hardened criminal, we treat him well, so Kanu's case is not different.
"There is no truth in the claim that DSS is poisoning Kanu; it's all a lie – he has access to his doctors. However, he has his medical issues, but he is not denied access to his doctors.
"You know we should not expect anything good from IPOB, their issue and agenda are against the government so disregard all these reports."