'He Gave Tinubu An Agenda' – Naja'atu Speaks On Buhari, Atiku, El-Rufai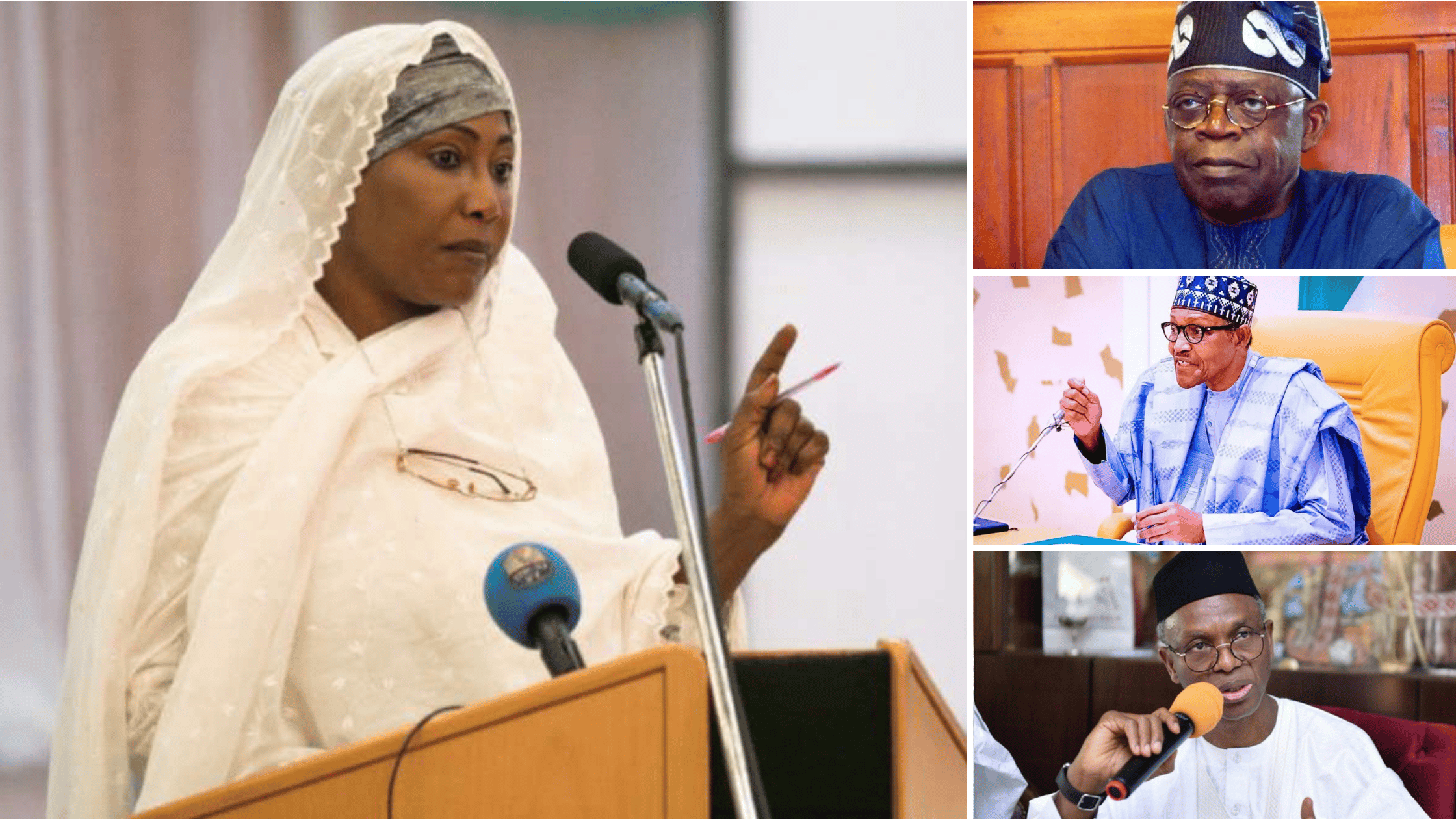 A former chieftain of the All Progressives Congress (APC), Hajiya Najatu Muhammad, has revealed five secrets about the incumbent administration and APC's bid to remain in power with an Asiwaju Bola Ahmed Tinubu's presidency.
Recall that the outspoken 67-year-old Kano-based politician dumped APC and resigned from her position as the Director of the Civil Society directorate of the APC Presidential Campaign Council last weekend.
Naja'atu has since been revealing some plots and agenda of the APC administration, making comments capable of watering down the candidacy of Tinubu ahead of the February 25th presidential election, Naija News reports.
Below are Naja'atu's assertions about APC, Buhari, Tinubu And Governor El-Rufai ahead of the 2023 elections:
Buhari Freed The Biggest Thieves
Featuring on Trust TV's Daily Politics, Naja'atu asserted that President Buhari has failed to fulfil his promises to the people of Nigeria. According to her, Buhari, while seeking election years ago, promised to deal with corruption, and insecurity, improve the country's agriculture sector and give Nigerians an enabling environment to conduct their businesses.
Naja'atu said it was unfortunate that the Katsina State man has backed out from his promises as he has freed the biggest thieves in the country under his watch.
When asked to elaborate on her point, Naja'atu said Buhari's administration is the most corrupt today, even when compared to military and civilian rule.
She was asked if she had some facts about her claims considering that the President has assured Nigerians that he is fighting corruption more than any other government.
"Who did he fight? Even recently, he pardoned some of the biggest thieves we had in Nigeria," Naja'atu asked.
When asked if she was referring to former governors, she resounded yes. She said: "Yes, of course. Why should he do that? You hear as billions stolen by a particular individual, and the story goes under the carpet. Right now, we are hearing of trillions missing."
Atiku Spoke To Me First, But Tinubu Convinced Me
Speaking on the 2023 presidency and her decision to dump the APC, Naja'atu said though the presidential candidate of the Peoples Democratic Party (PDP), Atiku Abubakar, had spoken to her first for support, Tinubu, however, convinced her.
The former APC chieftain said Tinubu has been saying he will build on Buhari's legacy. She questioned the interviewer about what it was with Buhari's government that the former Governor of Lagos State wanted to build on.
Responding to the question on who convinced her to be part of Tinubu's campaign team earlier, Naja'atu said: "He – Asiwaju convinced me."
She added: "Well, you see, as a Muslim, I rejected the appointment ab-initio. When they called me for it, I said I didn't want it."
Speaking on the fact that some people are bribing their way to get such appointments, the politician said: "I don't need it, why should I? What is it, I am 66 years old, and at 66, what do I want? What do I need? All I need is the legacy I am leaving behind that will serve me in my grave.
"When I rejected the appointment, he called me to say that they had given me the directorate of civil services, and I told them I didn't want it, so he said, please accept it; I said no. He said why are you not accepting it? I said because Asiwaju knows me, he knows where I am; he didn't call me to tell me. You are telling me to say that my name will be out tomorrow; I don't want it.
"So we agreed that I would see Asiwaju but let me allow them for the list that was coming up the next day because it can't wait. But if, after sitting with Asiwaju, I feel unsatisfied, I can opt-out. For that reason, if you'd noticed, in my name, there were two names; a director and a co-director, and they were right to have done that.
"So I went to London to see Asiwaju the very next day, and I sat with him, and he first apologised that he didn't call me based on that, and I said, sir, I refused to accept your appointment because you haven't told me nor have you told Nigerians what you have for us up North."
When asked to speak further on their discussion, she said: "Yes, and he told me point blank. I said sir, what do you have in your blueprint for us up North? He said he doesn't have a blueprint."
Naja'atu was asked if Tinubu meant he had a Nigerian blueprint or what, and she said, "No, he said he doesn't. I said what do you have for us up North? He said nothing. This is what Asiwaju told me."
When asked if there were some people while they were having such a discussion, she responded with yes, saying: "Yes, there was Baba Bisi Akande, and then I felt very bad, and I said, how can you go and rule without a blueprint, I am quoting him verbatim, he said, "I will not have a blueprint until I win the election because I will be stepping on too many toes and they will try to destroy me." But then he said, "If you have anything for the north that you want me to put in my manifesto, then I will take it and put it on my manifesto.
"I felt bad, but I had to be patient. So I went back, and I sat with one of my leaders, and we came up with a couple of things that include the almajiri problem, the question of agriculture, the question of out-of-school kids, the question of how to tackle our sea of youths, able-bodied men and women doing nothing in northern Nigeria; how to engage them. I wrote these things, and it took me just about a week while I was still in London."
El-Rufai Gave Tinubu An Agenda
Speaking further, Naja'atu said she struggled later to see Tinubu so she could give him some things she had noted down, which they from the northern region expect from Tinubu if he won the 2023 election.
According to her, she was later told that Kaduna State Governor, Malam Nasir-El-Rufai, had given the APC presidential candidate an agenda and that it was the only agenda Tinubu wanted to work with.
Her words read: "I struggled to see him so that I could give it to him, but I was finally told by one of his handlers that he is sorry, they can't put in my request because, like he said, and I am quoting "he said Mallam Nasir El-Rufai had already given them an agenda, and that is the only agenda", this was what he told me. It might not be true because I don't expect Mallam Nasir to do just that.
When asked if that is considered a unilateral decision, she said: "Not just unilateral, I don't expect somebody like Nasir El-Rufai just to say that the only thing the North needs is state police; was what this handler of Asiwaju told me."
Who gave El-Rufai such power? Responding to the interviewer, Naja'atu said: "This is what I'm driving at and having done that, I felt very bad, but I still persevered and then the next step I took was to see all those that I feel are opinion moulders from the North within the APC. I asked them to, please let us come together and form a bloc of opinion-moulders in APC from the North so that we give to Asiwaju what we feel and know that the North needs."
She stressed that there was a need for Tinubu to sign a Memorandum of Understanding (MoU) with them in the north, the kind of charter that would be made public.
She said: "These are our requirements, but typical of northerners, they refused. For the past three months, I have been shuttling between one of them or the other, and they did not.
"We have a responsibility; I have a responsibility to God and to humanity. God has favoured us, He has given us some favours, and we have to account for these favours.
"So having done all these things, we cannot pin Asiwaju down, but the worse part is that we know, everyone knows and not because it is Asiwaju's fault to be ill; it is not Asiwaju's fault that he has dementia."
When asked if there was any arrangement for El-Rufai to speak on behalf of the North, Naja'atu said: "Well, I don't know whether they had that arrangement between them because if you look at it, Asiwaju appears to be dealing with APC governors alone, so I don't know at which stage he took that."
Tinubu Has Dementia, They Are Just Packaging Him
According to Naja'atu, the APC presidential candidate has dementia. When asked if she has evidence for her claims, she said: "But you can see him all over; what evidence do we need? I sat with him… I sat with him for about two hours in London; when you talk, it is like he losses the essence of what you are saying; he talks of something else, you, understand? And he goes to sleep, and he wakes up, and he talks."
According to her, Tinubu has several times spoken, and he cannot decipher or understand what he is saying.
"If you had listened to his speeches, I am not saying what is happening to him is his fault; it is part of human nature," she said.
Naja'atu said the people packaging the APC candidate are those seen with him all the time ahead of the 2023 election.
According to her, Tinubu's health was part of why she was sceptical about supporting him initially. She said, however, she never knew the severity until she met and sat with him.
"So I was thinking that if at least those of us from the North can sit and put up a package and pin him down to sign that okay when you win, we can do this and this for you but if you win, these are our demands for the North because I remember seeing the Lagos State Chamber of Commerce writing out their demands to Asiwaju," Naja'atu said.
Atiku Is Sane, Doesn't Have Dementia
According to Naja'atu, PDP presidential candidate, Atiku is sane and healthier than Tinubu. Naija News understands that she said this while responding to questions about her meeting with the former Vice President after dumping Tinubu's camp.
The interviewer asked, after your resignation, the next thing we saw was your picture with Atiku Abubakar; why? she responded: "Yes, because that wasn't the first time I met him; in fact, I have been trying to meet him not just with Atiku, but I was also gauging other candidates. As I was saying, one of my preferred candidates is actually Kwankwaso of NNPP."
She stressed that she had made up her mind to go with Atiku and that the person the APC was promoting was incapable of leading Nigeria. Naja'atu also disputes some rumours that Atiku also has dementia.
It Was Atiku Who First Called Me
Speaking further about her relationship with Atiku, the former APC chieftain said: "You know, before going to Tinubu; actually, it was Atiku who first called me. I have sat with them severally, I have asked them the same questions that I asked Tinubu, and they had given me brochures, blueprints of at least one or two things, particularly the question of security."