Group Speaks On Buhari Walking Out Of Tinubu's Campaign In Bauchi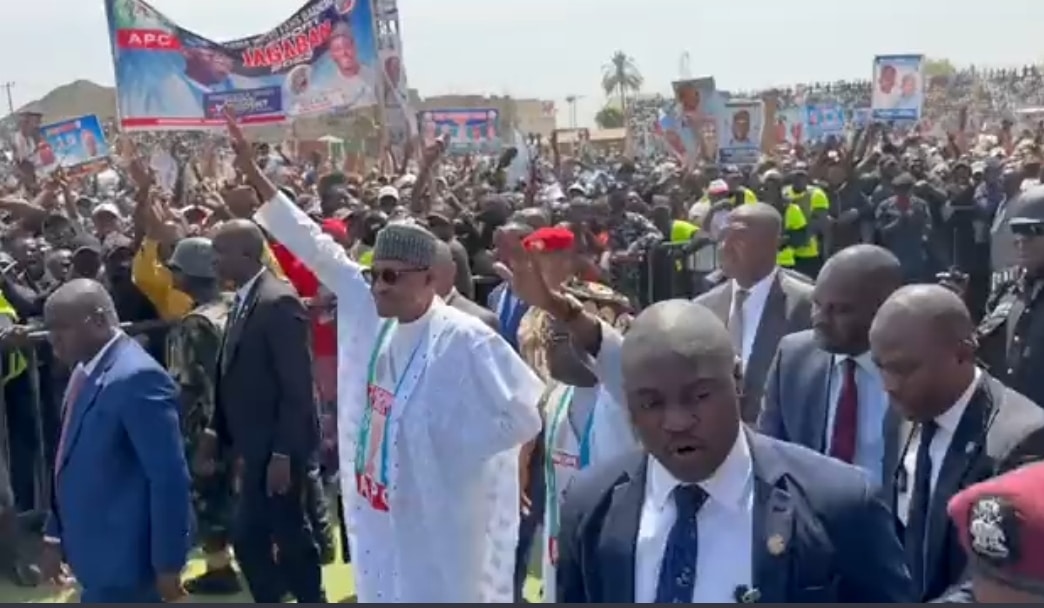 The support group for the All Progressives Congress (APC) governorship candidate in Bauchi State, Sadique Baba Abubakar has denied the reports that President Muhammadu Buhari walked out of the rally in Bauchi.
There had been reports that President Buhari angrily left the presidential campaign in the state after being unable to address supporters of the party due to a sound glitch.
The group known as Marshals Foot Soldiers (MAFOS) said the claims that Buhari walked out of the campaign rally is not true.
The Secretary General of the group, Fatima Abdullahi in a statement said, "It was false reports going around purportedly from APC political opponents which indicated that there was stampede and confusion at the APC's Presidential Campaign Rally held at the Sir Abubakar Tafawa Balewa Stadium in Bauchi forcing President Muhammadu Buhari to leave angrily."
She claimed that the report was authored by the opposition party.
Abdullahi further stated, "We don't want to join issues with the authors, but we need to put the record straight in the interest of telling the truth to the public.
"From our record, President Buhari left the venue of the campaign happily after performing all designated ceremonial duties that he was supposed to do at the event.
"President Muhammadu Buhari smilingly gave APC flag to the party's Governorship candidate Sadique Baba Abubakar.
"He also raised his hand that of Asiwaju Bola Ahmed Tinubu to the yelling crowd of supporters.
"We took the incident of microphone failure as an act of sabotage from the PDP supporters who infiltrated the stadium.
"To put the record straight since our Party has been busy working tirelessly to convince the electorate of the need to allow it to continue in power.
"With the former Lagos State governor, Asiwaju Bola Ahmed Tinubu as its Presidential candidate, and the former governor of Borno state, Senator Kashim Shetima as his running mate, who will continue with the good work that President Muhammadu Buhari has started.
"The party has been crisscrossing the country campaigning, with exultations from supporters everywhere.
"Bauchi is the home of APC, where as expected, the candidate was received with exultation and boisterous celebration"
Abdullahi added that supporters of the party were excited for seeing President Buhari at the rally of Tinubu in Bauchi.
She noted that the Abubakar Tafawa Balewa Stadium in Bauchi was full, as supporters turned out to support Tinubu's presidential ambition.
Abdullahi called on the Peoples Democratic Party (PDP) in the state to start preparing their handover note ahead of the 2023 general elections.