2023: Consider Collection Of PVCs A National Emergency – Sam Amadi To INEC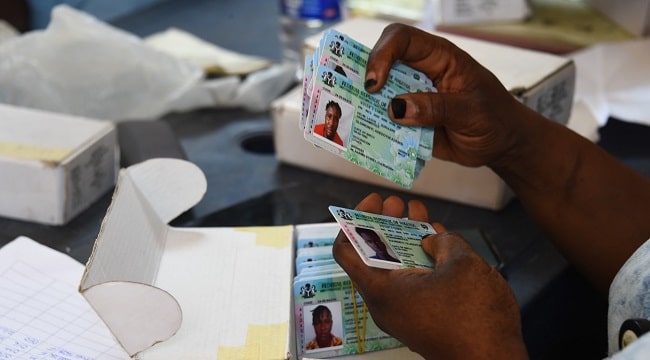 The Director of the Abuja School of Social and Political Thoughts (ASSPT), Sam Amadi has put it to the Independent National Electoral Commission (INEC) to consider the collection of Permanent Voter Cards (PVC) as a national emergency for the 2023 general elections.
According to the political analyst, INEC should put in place radical measures in responding to challenges regarding the collection of PVC, especially in Lagos State.
He alleged the increasing ethnic profiling of voters in the ongoing distribution of PVC by some INEC staff in Lagos State.
Amadi as learnt by Naija News while addressing pressmen in Abuja at a briefing on issues arising from PVC collection and related matters accused INEC staff of colluding with politicians to deny some registered voters their PVCs.
He advanced that "The most damaging aspect of the whole exercise is the credible evidence of structural and strategic denial of PVC in some part of Nigeria, particularly Lagos state, where officials connive with political potentates to frustrate some citizens from collecting PVC or deliberately slow the pace to run out time.
"It is important to note that every citizen of voting age has a constitutional right to vote irrespective of tribe and religion as long as the fellow makes effort to be registered to vote. This constitutional right can not be trumped by the inefficiency of the election management body or other exigencies.
"Section 47 of the Electoral Act requires that a person intending to vote at any election must present a voting card to a presiding officer. That section is predicated on the constitutional right to vote. When a citizen has done all required to acquire a voter's card, but the election management body fails to grant such fellow the facility to enjoy the constitutional right, then he or she cannot be deprived of the enjoyment of the constitutional right because of the refusal or failure of the state authority represent by INEC in this instance.
"This means that we may be walking into a constitutional crisis if INEC does not improve its logistics and ensure that those who are willing to vote and are making efforts to collect their voter card collect the same before the date of the election.
"Also, INEC must shift its mentality to meet the challenge of students in universities and other tertiary institutions who may not have returned home to collect PVC. Should INEC not be able to send their PVCs to their school addresses or aggregate these registrants and deliver them to them at their current locations of schooling?
"The bottom line is that everyone should collect their 'Voter's Cards' so that we do not deprive any Nigerians of the constitutional right to vote."
He, therefore, suggested that the commission should set up a situation room to receive real-time feedback from electorates facing challenges in collecting their PVCs to avoid disenfranchising any Nigerian.