2023: What Gov. Bello Told APC Supporters In Niger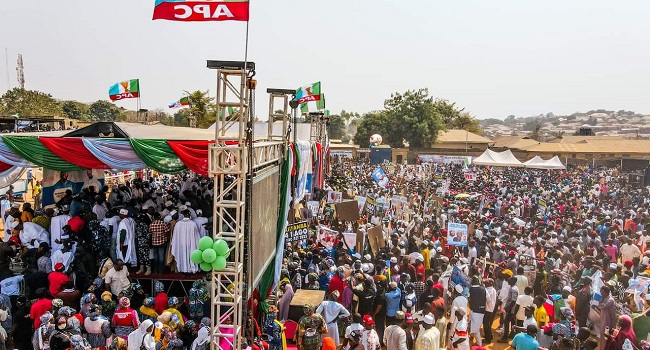 The Niger State Governor, Abubakar Bello, has told supporters of the All Progressives Congress (APC) in the state to come out massively to vote for the party at the polls next month.
According to him, if the people of Niger State want the achievements of the present administration to be consolidated, then they would have to vote for candidates of APC at all levels to ensure that is done.
The governor said the party has credible candidates that would form a formidable team to improve on the successes recorded by the present administration.
Naija News learnt that Bello called on the electorate to vote for the APC when he led the flag-off campaign of the party's candidates in the state in Niger-East Senatorial District.
The governor also called on the people to be more vigilant and stay positive that the 2023 elections will be successful.
Also speaking at the campaign flag-off was the governorship candidate of the APC in the state, Umar Bago, who appealed to eligible voters to come out en mass and vote for him and all other candidates of the APC in the state and Nigeria at large.
He pledged citizens of the state to expect progress and development if candidates of the APC are elected at the forthcoming general elections and as well promised to carry women and youths along.
The Niger East Senatorial District's, Sani Musa, also urged the people to vote for all APC candidates, assuring that the National Assembly members from the zone will work collectively to ensure rapid development of the zone.
He said, "We have done very well. We have realized some shortcomings and we are going to do better."
He called on the people to be patient, and vigilant as well as ensure that they run issue-based campaigns devoid of violence.