See How Nigerians Turned Up For Bola Tinubu's Mega Rally In Abia State (Video)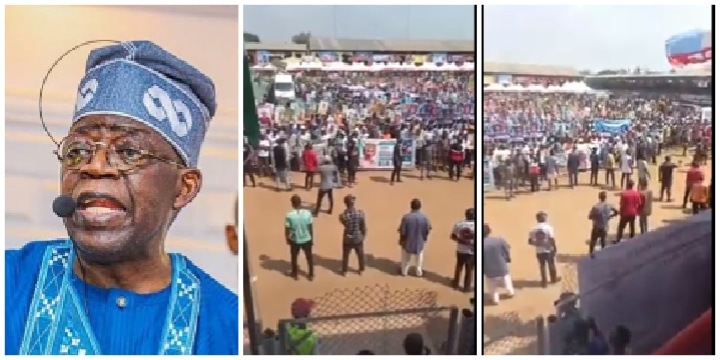 The All Progressives Congress (APC) has pulled a large crowd to it's campaign ground in Umuahia, Abia State.
Naija News reports that the Chairman of Abia APC, Dr Kingsley Ononogbu had earlier told journalists that they were ready to stage "mother of all rallies" to demonstrate its strength, mass appeal and readiness to take power in Abia.
"We want our people to come out and be a part of the making of a new Nigeria. We want Abia to be part of the success story of APC," he said.
He insisted that the wave of the Obidients movement would not in any way affect the rally.
We are disciplined people and we believe in party supremacy. So, we will vote for our party's candidates," he said, adding, "APC has done well for the South East even when we didn't vote for the ruling party."
"It is high time our people started identifying at the national level," he added.
Video from the rally has shown a massive crowd in attendance.