Nnamdi Kanu: Why Have Peter Obi, Tinubu, Atiku Refused To Pledge Compliance? – Bruce Fein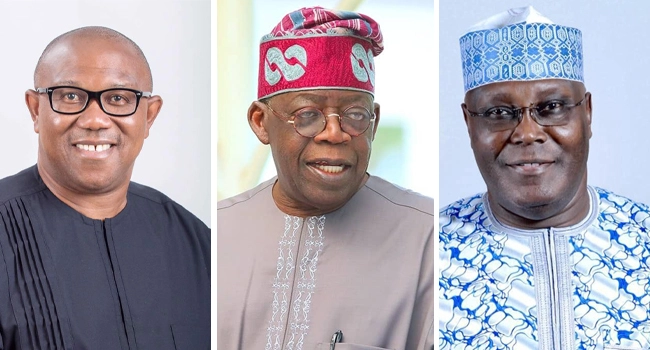 Bruce Fein, American counsel to the detained leader of the indigenous Peoples of Biafra (IPOB), Nnamdi Kanu, has questioned why the three key presidential candidates in Nigeria, Atiku Abubakar, Bola Tinubu and Peter Obi have not promised to obey court verdicts to release his client.
In a post on Twitter, the lawyer insisted that the continuous detention of the IPOB leader despite the court judgement was "lawless."
He queried Tinubu, Atiku and Peter Obi for refusing to pledge compliance to the directive of the United Nations Working Group.
Fein argued anyone who accepts to take custody of Kanu from the Department of State Service (DSS) was illegally aiding and abetting a violation of the UN Working Group's decision stating that his case is international.
"Arbitrary detention is a jus cogens norm of international law binding on all nations. The UN Working Group's finding that Kanu was being arbitrarily detained in violation of 16 human rights covenants binds Nigeria. Why are Atiku, Tinubu, and Obi not pledging compliance? Lawless?
"Anybody accepting custody of MNK (Mazi Nnamdi Kanu) from DSS illegally aids and abets a violation of the UN Working Group's definitive decision directing his immediate unconditional release. MNK's case is international. Strict compliance with the Working Group through me is the only option."