CNG Reacts To Renewed Calls For Nnamdi Kanu's Release, Sends Message To Buhari Govt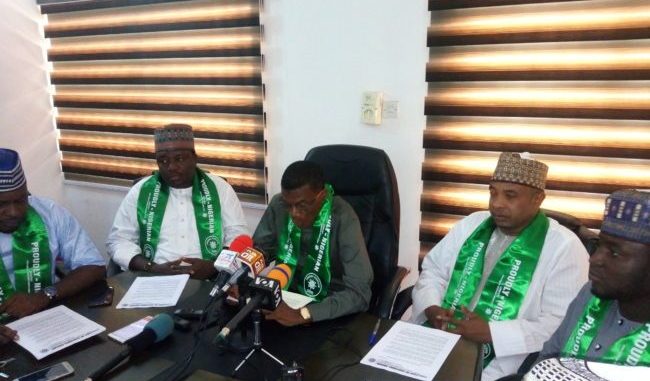 The Coalition of Northern Groups (CNG) has condemned the renewed calls for the unconditional release of the leader of the proscribed Indigenous Peoples of Biafra (IPOB), Nnamdi Kanu.
Naija News reports that CNG was reacting to recent calls by the Council of Elders of Ohanaeze Ndigbo, Worldwide, and the Anambra State Governor, Charles Soludo for Kanu to be released.
In a statement on Sunday night by its spokesman, Abdul-Azeez Suleiman, the CNG warned that renewed calls for the IPOB leader's release is a recipe for greater conflict.
The organisation said the Federal Government should not listen to any such calls to avoid setting dangerous precedence in the country.
The statement reads: "It is unpatriotic and unreasonable for leaders to openly shield  IPOB and other authors of mindless violence and separatism who see it as their duty to actualise what their fathers started in 1966, namely to bring about the realisation of a separate State of Biafra through the force of arms and terrorist tactics.
"Today, everyone can see that the diabolical scheme planned and exhibited in the actions and clamours of IPOB, supported morally and politically by the vast majority of the plant and affrighted Igbo elite, politicians, traditional rulers, business persons, and the larger population of this ethnic group that has pushed Nigeria to the precipice.
"We are convinced that this renewed determined pressure from the Igbo leaders is part of a wider plot to see through the secession of the South-East from Nigeria. It is now real and cannot be avoided or deferred any longer without terrible consequences.
"As the representatives of various interest groups from Northern Nigeria, the CNG has watched and studied  these events carefully and with considerable restraint and maturity, to the point of condoning and accommodating several unreasonable and unacceptable actions that have been perpetrated against Nigerians collectively, and Northerners in particular.
"Of late however, the calls for the unconditional release of Kanu have pushed matters to a point whereby silence has become complicity and inaction no longer an option with unprovoked evictions, attacks and killings of northerners in various parts of the South-east resulting from the hate campaigns and propaganda being conducted by regional and ethnic agitators solidly backed by their leaders."