Tinubu Backed Buhari Like A Baby, He Deserves More Support – Mumuni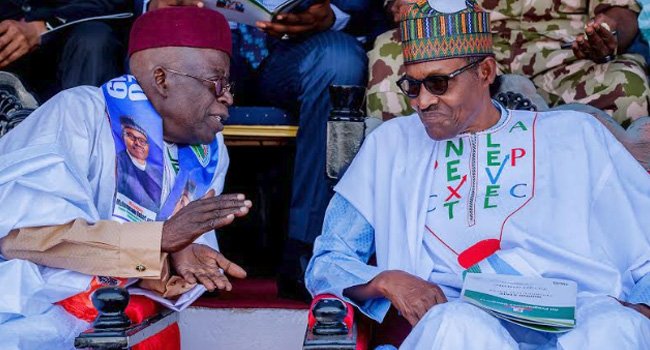 A former gubernatorial candidate of the defunct Congress for Progressives Change (CPC) in Lagos State, Ambassador Abayomi Nurain Mumuni, has urged President Muhammadu Buhari to reciprocate the good deeds extended to him by the All Progressives Congress presidential candidate (APC) Bola Tinubu in 2015.
He insisted that the APC flagbearer deserves more support from Buhari.
Mumuni stated this via a statement made available to newsmen at the weekend through his media aide, Rasheed Abubakar.
Naija News recalls that Buhari won the presidential election after Tinubu and other political godfathers joined forcers to form the APC in 2014.
Speaking on Tinubu's presidential bid, the APC stalwart begged the President to also do what Tinubu did for him before he clinched the presidency.
He opined that Tinubu, his followers and APC, in general, need more support from Buhari than what they are currently getting from the president.
Mumuni, while speaking, further insisted that Tinubu carried Buhari, and backed him like a baby learning how to crawl to win the 2015 and 2019 elections.
He said, "Buhari should reciprocate what Tinubu did for him in 2015. We expect more support from Buhari than what we are getting.
"Asiwaju carried Buhari, backing him like a baby learning how to crawl in 2015 and 2019, to win both elections. Basically, we are expecting President Buhari to reciprocate the gesture that was extended to him during that trying period.
"Myself and Buhari have gone into polls during the days of ANPP and CPC, and we both lost the elections woefully. There was no election held in the days of ANPP, CPC that I was not at the polls, so what are we talking about? Buhari should do better than what we are getting in APC of today.
"However, Asiwaju will surely win the election, that's to cut the long stories short, because Bola Tinubu has what is required to deliver good governance than those clowns masquerading around the country soliciting for support or vote".