Nnamani's Ally Reacts To Ex-Governor's Suspension From PDP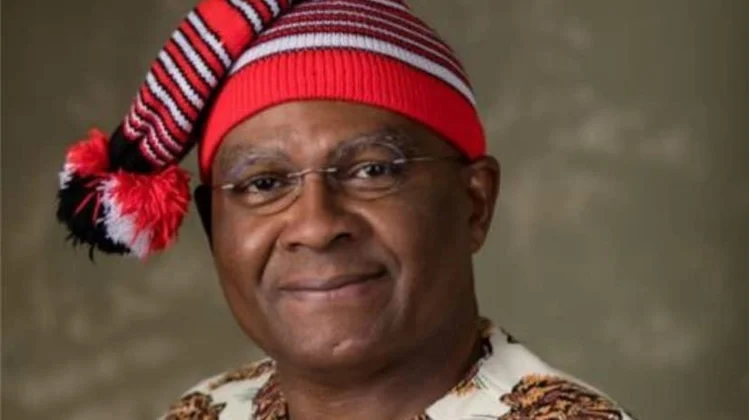 A member of the All Progressives Congress (APC) Presidential Campaign Council (PCC), Josef Onoh, has slammed the Peoples Democratic Party (PDP) over the suspension of the Senator representing Enugu East Senatorial District, Chimaroke Nnamani.
In a statement on Saturday, Onoh said Nnamani and others were suspended from the PDP because they refused to board a Special Purpose Vehicle (SPV) to Dubai, United Arab Emirates (UAE).
Onoh stated that the PDP is not a democratic political party for failing to give Nnamani and others members a fair hearing before suspending them from the party.
He opined that the main reason why the PDP did not carry out due diligence before suspending Nnamani and others is a way of diverting the attention of Nigerians from the SPV scandal.
The APC chieftain argued that Nnamani's suspension was useless and of no effect since Nnamani remains a February 25 candidate of the PDP by law.
Onoh therefore urged the supporters of the lawmaker to remain focused and not get distracted by a Dubai-bound vehicle that does not have a Google map for navigation to it's destination.
He said: "Every political party has its own problem which is not limited to the PDP, after all, the All Progressives Congress (APC), on Friday, endorsed the governorship candidate of the PDP in Enugu, but you didn't see the APC rushing to suspend its members, without exercising their fundamental rights as enshrined in the constitution.
"Let us remember that all political parties drive their powers from the constitution. The APC has been able to manage their internal problems and has not gone to show crass approach by suspending any of its members.
"Democracy allows freedom; liberty to make choices and the actions of the PDP has made us to know the type of government, the presidency intends to run if elected. Therefore, I urge Nigerians to desist from making the greatest mistake of their life by venturing to elect such people.
"The main reason why the PDP did not carry out due diligence before suspending Chimaroke Nnamani and the rest, including Ayo Fayose's son is a way of diverting attention of Nigeria's from their Special Purpose Vehicle (SPV) scandal.
"Asiwaju Bola Tinubu of the APC has been the only presidential candidate that has physically traversed in almost all the states in Nigeria and has more physical presence of what the campaign should be than others.
"If Nigerians should make the mistake of electing the PDP candidate, it will result in boarding a special purpose vehicle whose terminus is in Dubai."