PSG Vs Riyadh All-Stars: Messi Beats Ronaldo 5-4 In Saudi Arabian Friendly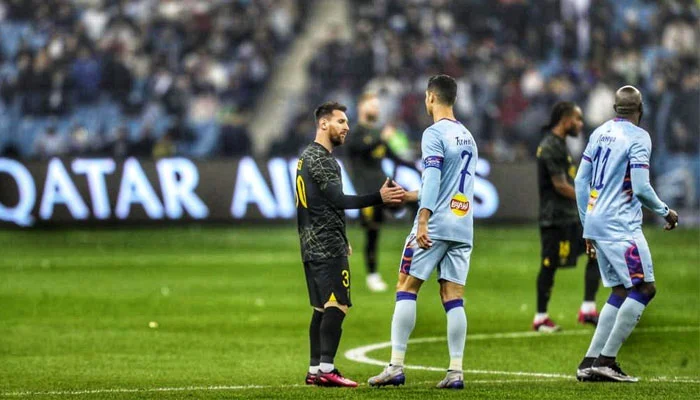 Portugues's star, Cristiano Ronaldo, and his long-time Argentine rival, Lionel Messi, met yesterday in Saudi Arabia for a friendly match.
The multiple-time Ballon d'Or winners both led their sides to a scoreline of nine goals on Thursday evening in the match fixed between French club, Paris Saint-Germain and Riyadh All-Stars.
Naija News understands that the friendly match between the French side and Saudi Arabian clubs was part of the state-sponsored Saudi festival known as Riyadh Seasons.
The intriguing match ended with nine goals with 5 goals to Messi's side, while Ronaldo's side went down with 4 goals at the King Fahd International Stadium.
There was a show of power and desperation for a lead throughout the 90 minutes of the match. However, both Messi and Ronaldo had their names on the scoresheet.
For PSG, Messi was on the scoresheet as did Marquinhos, Sergio Ramos, Kylian Mbappe, and Ekitike while on Riyad All-Stars, Ronaldo scored twice (one penalty), so also Jang, and Talisca to end the game on 5-4.
Naija News reports that the friendly match was Ronaldo's first game since joining Saudi Pro League side Al Nassr after ending his contract with English Premier League side, Manchester United.