PDP Crisis: My Problem With Atiku Is Personal – Ortom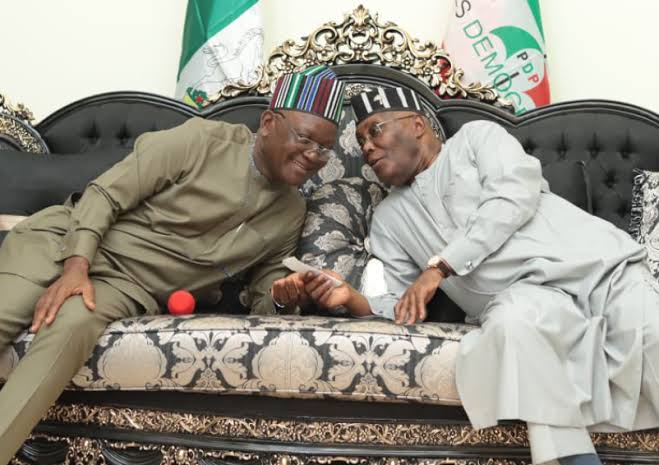 The Governor of Benue State, Samuel Ortom, has disclosed that he has a personal issue with the Peoples Democratic Party (PDP) presidential candidate, Atiku Abubakar.
Speaking with reporters on Thursday, the governor said the former Vice President has turned a blind eye on the sufferings and the plight of the people of Benue in the hands of Fulani herdsmen.
Ortom stated that Atiku's comments on the Benue killings at the dialogue with the Northern Elders Forum (NEF) held in Kaduna State last year were offensive to him.
He asserted that the safety and well-being of the people of Benue state are his interest and driving force because politics is a game of interests.
The governor argued that any candidate whose interest clashes with that of Benue people cannot enjoy his support nor that of the citizens and residents of the state.
He said injustice, undemocratic practices and another attempt to deny him a second term ticket because of his firm stance in defence of the security of Benue people made him dump APC and retained his seat as governor under PDP.
He said, "Apart from the G5, I've have personal issues with the presidential candidate of our party.
"He has turned a blind eye on the sufferings and the plight of my people who elected me. I have cried for more than six years about the carnage, the frustration I have, the terrorist activities of Fulani herdsmen, only for our candidate to go to Kaduna and say that he is a Fulani man,  so, I should not complain when they are killing my people? This is unfair to me.
"So, for me, there are options in politics. I can decide to sit back and also turn a blind eye and not do anything at all.
"I can decide on the day of voting to go and vote for somebody I think that can bring succur to me and my people. I can do that. So, but we have to be strategic.
"It's not that we're stuck. We know what to do. At the end, if the leadership or party is not able to come out with strategies that we also help to bring us back into the fold, we can decide to say okay, let everybody go and do the election according to the election. So, that is it."