Lagos Police Command Reacts To Clash Between Police Officer And Soldier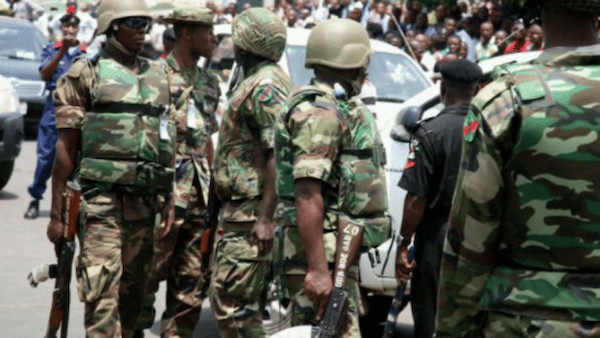 The Lagos State Police Public Relations Officer, Benjamin Hundeyin, has reacted to the clash between a police officer and the army on Wednesday, January 18, 2022.
Naija News earlier reported that a soldier clashed with a policeman in Ijaya, Apongbo area of Lagos, causing tension in the community.
In a viral video, a military officer can be seen trying to disarm one of the police officers who resisted the disarmament with light punches.
The policemen attached to the Lagos State Mobile Taskforce subsequently freed themselves after spraying teargas to disperse the soldiers.
Eyewitnesses can be heard urging for the scene to be recorded as evidence.
However, it is unclear what led to the confrontation between the two security officers.
Police Speaks
Reacting via Twitter, Benjamin Hundeyin, revealed what transpired between the security officers, stating that the soldier compelled a driver to drive against traffic.
He said: "The soldier, who was a passenger, directed the driver to drive against traffic. The policemen stopped the vehicle and the soldier took offense that the vehicle he boarded was stopped.
"He, therefore, decided to attack the armed policeman. The Army has been informed."